Bree Olson Angrily Opens up on Charlie Sheen's HIV Admission: He Never Told Me!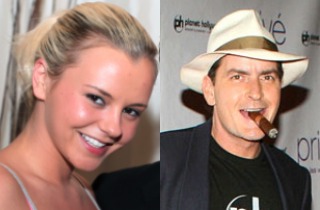 One of Charlie Sheen's former "goddesses" is furious that years after dating, the former Two and a Half Men star waited until today to publicly admit he has HIV.
Bree Olson was one of Sheen's two live-in girlfriends when he had his public meltdown back in 2011. During her interview with Howard Stern this morning, she blasted off and said that in all the time spent living and having sex with Sheen, he never told her about his condition.
"I couldn't be more angry. I'm shaking, I've been crying. To think that someone could do that to me. I loved him. He was my boyfriend," Olson said. "I am so upset. He doesn't even value my life."
Though Sheen said on Today that he told all his sexual partners and did not pass the virus along, Olson said that Sheen always wore lambskin condoms with her, which doesn't protect against HIV like latex. Olson said that she noticed the first symptoms Sheen exhibited of the virus' progression, but said that Sheen told her it was because he took steroids.
When the rumors first surfaced yesterday, Olson told her Twitter followers she was getting herself tested, and announced to Stern that the results have come back negative. Even so, Olson was steaming that she stuck up for Sheen as long as she did when he was playing "Russian Roulette" with their sex life.
"'I'm clean,' he told me. 'I'm clean, I'm clean,' because I didn't want to use lambskin, I wanted to use regular condoms… I trusted him," Olson said. When asked if she would accept an apology, she responded "I'd say 'f*ck you,' and hang up the phone."
Listen to the interview above, via The Howard Stern Show:
[h/t Daily Beast]
[image via wikimedia / shutterstock]
Have a tip we should know? tips@mediaite.com