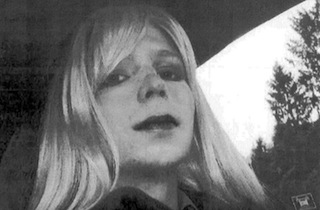 Chelsea Manning, the Army private currently serving a 35-year prison sentence for leaking classified information to WikiLeaks, has joined Twitter under the name @xychelsea.
Manning, formerly known as Bradley before undergoing a sex change operation, was lauded as a hero by civil liberties advocates. She was hired by The Guardian in February as a contributing opinions writer.
Manning is not directly tweeting herself, and it is unclear how the tweets are being dictated and sent. Inmates do not have Internet access from high-security facilities like the one she is currently in.
"I'm hoping to stay connected w/ this account as much as poss., but would rather tweet about more meaningful things than not," she tweeted on Friday.
As of this writing, Manning has amassed almost 10,000 followers.
This is my new twitter account =P

— Chelsea Manning (@xychelsea) April 3, 2015
I'm hoping to stay connected w/ this account as much as poss., but would rather tweet about more meaningful things than not #lessismore

— Chelsea Manning (@xychelsea) April 3, 2015
Tweeting from prison reqs a lot of effort and using a voice phone to dictate #90sproblems

— Chelsea Manning (@xychelsea) April 3, 2015
It will be hard, but I don't want this Twitter feed to be a one-way street/conversation

— Chelsea Manning (@xychelsea) April 3, 2015
Starting with a shout out to the friends who have always stood by me @ggreenwald @amnesty @carwinb @savemanning and so many others #thankyou

— Chelsea Manning (@xychelsea) April 3, 2015
[Image via screengrab]
— —
>>Follow Andrew Desiderio (@forza_desiderio) on Twitter
Have a tip we should know? [email protected]