CNN's Carol Costello Had a Great Interview With the True Debate Star: Kenneth Bone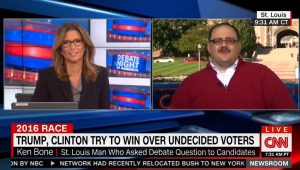 Kenneth Bone appeared before the media today in order to talk about about what it was like to become an Internet sensation after Sunday night's debate in St. Louis.
Bone was a town hall audience member who asked Donald Trump and Hillary Clinton about energy policy, and he inexplicably captivated the Twitterverse. CNN's Carol Costello had Bone on with her today, and she asked him what his experience was like and how it feels to be a surprise superstar.
Bone still had his infamous red sweater on from last night, which he said he only wore because he ripped a hole in the clothes he wanted to wear to the debate. In terms of the debate, Bone said he was disappointed in the "bickering" between Trump and Clinton, though he applauded how Martha Raddatz and Anderson Cooper moderated the event.
Bone told Costello that he remains undecided, but he's starting to lean away from Trump after he saw Clinton retain her composure as she withstood his attacks. Bone said he was unaware last night of Trump's maneuver to bring Bill Clinton's sexual misconduct accusers into the debate hall, but he said that the move was "uncalled for."
"It has very little to do with Hillary Clinton's ability to be president," Bone said. "If Mr. Trump wants us to forget his past behaviors, he needs to quit dredging up those of his political opponents."
Before Costello let Bone go, she chuckled as she asked for his thoughts about the tweets reflecting his newfound fame.
You can watch Bone's reaction above, via CNN.
[Image via screengrab]
— —
>> Follow Ken Meyer (@KenMeyer91) on Twitter
Have a tip we should know? tips@mediaite.com