Conservative TV Station's Ad Questioning Convicted Rapist's Guilt Is Removed By Billboard Company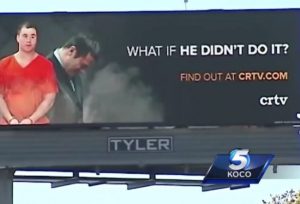 Tyler Media owns a billboard in Oklahoma City that has caused some major controversy, so they stepped in to take down the shocking ad. Wondering what the ad was for? Are you sure you want to know? It's Thanksgiving tomorrow, so wouldn't you rather relax than get upset? Okay, okay, the ad was for a documentary about local convicted serial rapist Daniel Holtzclaw that is set to premiere on a new conservative station. The ad features the text, "What if he didn't do it?"
The man is serving 263 years in prison for doing it, but the ad just wants to ask, you know, what if he didn't? Well, it doesn't just want to ask that; it also wants to make sure you're going to tune in to see the new Holtzclaw documentary on conservative digital TV channel CRTV, which launches in December.
Grace Franklin, the executive director of OKC Artists for Justice, said this to KOCO:
It was disturbing. It was infuriating. I think the location of it is the issue. This is where he was basically terrorizing women … This is about protecting survivors," Franklin said. "Imagine driving down I-44. You don't know that that's there, and you look up and there's a picture of him.
Tyler Media yanked the ad yesterday, which CRTV is using as a way to boost their profile ahead of their launch. In a statement, they said they were disappointed in Tyler Media for caving to the request from "liberal community activists."
"This is a perfect example of why platforms like CRTV are needed," said Chris Crane, CRTV Chief Content Officer. "Too often, if an opinion isn't sanctioned by the Left, it is simply stamped out."
Finally, Michelle Malkin — yes, that Michelle Malkin — is involved with CRTV. She has her own show on the new platform, which is responsible for the two-part documentary about Holtzclaw's trial. She said this:
Oklahoma City's left-wing activists succeeded in getting our billboard taken down. Fortunately for people who care about truth and justice, these activists won't be able to censor our broadcasts about the Holtzclaw case.
If you're wondering, Mark Levin, Mark Steyn, and, Steven Crowder are involved, too.
[image: screengrab]
Have a tip we should know? tips@mediaite.com