NBA Player 'Raises Hand' To Become First Openly Gay Male Athlete Playing In Pro Sports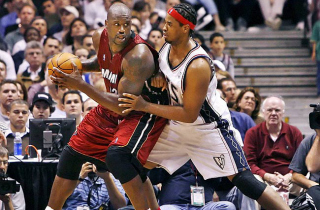 With a story he penned for the May 6 issue of Sports Illustrated, NBA player Jason Collins has become the first openly gay athlete playing for a major American sports team. The 34-year-old center for the Washington Wizards lamented that "I wish I wasn't the kid in the classroom raising his hand and saying, 'I'm different,'" but because no one else has volunteered to take the step forward, he has chosen to metaphorically raise his hand.

"Things can change in an instant, so why not live truthfully?" the 12-year NBA vet asked in light of the Boston Marathon bombings. He revealed that he was encouraged to come out in part by his college roommate and current Rep. Joe Kennedy (D-MA), who made the athlete jealous when he revealed he had marched in the 2012 Gay Pride Parade. The two will participate in the 2013 event together now.
"Imagine you're in the oven, baking. Some of us know and accept our sexuality right away and some need more time to cook. I should know – I baked for 33 years," Collins described of coming to terms with his sexuality and making the tough decision to publicly come out in a pro sports environment that generally shuns homosexuality.
In the piece, Collins also addressed the potentially awkward reception he may receive from teammates and on-court opponents: "I go against the gay stereotype, which is why I think a lot of players will be shocked: That guy is gay? But I've always been an aggressive player, even in high school. Am I so physical to prove that being gay doesn't make you soft? Who knows? That's something for a psychologist to unravel. My motivations, like my contributions, don't show up in box scores, and frankly I don't care about stats. Winning is what counts. I want to be evaluated as a team player."
"I'm a pragmatist. I hope for the best, but plan for the worst," he continued. "The biggest concern seems to be that gay players will behave unprofessionally in the locker room. Believe me, I've taken plenty of showers in 12 seasons. My behavior wasn't an issue before, and it won't be one now. My conduct won't change. I still abide by the adage, 'What happens in the locker room stays in the locker room.' I'm still a model of discretion."
Collins will play his 13th season of pro basketball next year and is about to become a free agent after his one-year contract expires with the Washington Wizards.
Read the full piece here.
— —
>> Follow Andrew Kirell (@AndrewKirell) on Twitter
Have a tip we should know? tips@mediaite.com