Dalai Lama: Prayer Not Enough for Paris, 'Humans Have Created This Problem' and Must Solve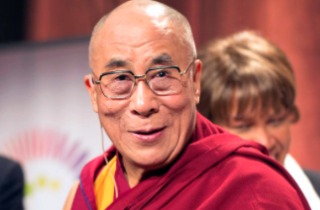 In the wake of the attacks that devastated Paris, the Dalai Lama followed Pope Francis to become the second spiritual world leader to offer sympathies to the people of France. The Buddhist leader denounced the violence as the short-sighted actions of out-of-control people, but also said that though the world might pray for the victims, nothing will change until real, humanistic actions are made in the name of peace.
"I believe it cannot be resolved through prayers or government help," the Tibetan leader said. "We have to begin the change at individual level and then move on to neighborhood and society."
The Dalai Lama's comments came during an interview with Deutsche Welle, in which he mused that the terror attacks were the result of "superficial differences" between faiths and nationalities, and that humans must actively work to address the problems they created. He did clarify that his words were not meant to dismiss the importance of prayer, but pointed out that "humans have created this problem, and now we are asking God to solve it":
It is illogical. God would say, solve it yourself because you created it in the first place. We need a systematic approach to foster humanistic values, of oneness and harmony. If we start doing it now, there is hope that this century will be different from the previous one. It is in everybody's interest. So let us work for peace within our families and society, and not expect help from God, Buddha or the governments.
[image via wikimedia commons]
Have a tip we should know? tips@mediaite.com