DEVELOPING: 2 Killed, 7 Arrested in Saint-Denis Raid Targeting Terror Suspects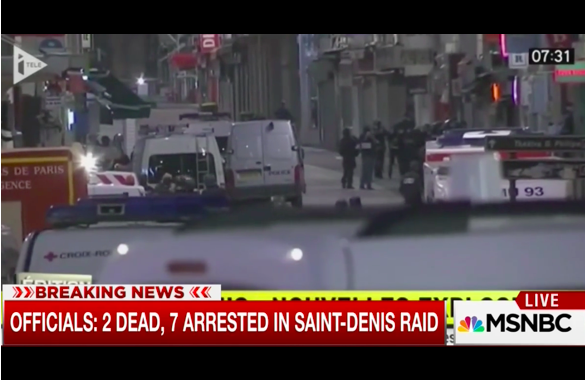 A police raid in the Paris suburb Saint-Denis has left two suspects dead and another seven in custody after authorities were able to track information off of a recovered cell phone to that address. The standoff featured a reported seven hours of explosions and gunfire, and one jihadist blew herself up in the raid.
The Minister of the Interior Bernard Cazeneuve said that the operation Wednesday morning at 4:30 a.m. local time was aimed at targeting perpetrators of Friday's deadly coordinated attacks in Paris that left 129 dead.
The events Wednesday were the latest in a series of raids by French police that have led to dozens of arrests in search of Salah Abdeslam, a suspect from Friday's attacks believed to be alive. The raid Wednesday morning was in pursuit of Abdelhamid Abaaoud, who authorities have been able to identify as the likely mastermind behind Friday's deadly attacks. No confirmation has been given about the identities of those involved, however.
NBC News' Bill Neely told Morning Joe:
 "Heavily armed French anti-terror police targeted an apartment where, we're told, they believe the mastermind of the Paris massacre Abdelhamid Abaaoud was with several other people. As they approached the apartment, as they went into the building, fairly quickly that female suicide bomber blew herself up."
We will continue updates as they become available. Watch the above news clip from MSNBC.
[image via screengrab]
>> Follow J.D. Durkin on Twitter (@MediaiteJD)
Have a tip we should know? tips@mediaite.com