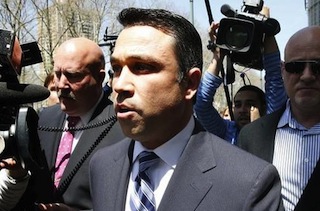 In an interview with POLITICO published Wednesday morning, Representative Michael Grimm (R-NY), who recently turned himself in to the federal government over charges stemming from his involvement in a New York City business, harshly denounced the media for trying to destroy him.

"There's no question: I've been vilified by the press since the day I got here," Grimm said. "From the very beginning they had to figure out how to get rid of this guy."
RELATED: GOP Congressman Physically Threatens NY1 Reporter in Post-SOTU Interview
The government alleged Grimm underreported revenue from an Upper East Side health food store by up to $1 million, and slapped him with 20 counts last month. Grimm called the procedure a "political witch hunt." Since then he's fared poorly; the GOP has pulled its support from his campaign, his last remaining full-time campaign aide recently departed, leaving Grimm to run for reelection on his own.
Grimm maintained his constituents still supported him, but accused the media of distorting his efforts. "The press focuses on the most ridiculous nonsense that I can dream about," he said. "Look, I'll sum it up. What do I think of the press? I think, right now, and it's been this way for two years: If I pass a burning building, and I stop and I run in and I save a baby, you know what the headline will be? 'Grimm starts the fire.' That's just the reality."
When asked if he were "innocent," he replied, "You know, uh. It depends on what you're asking me of."
[h/t POLITICO]
[Image via Mike Segar/Reuters]
——
>> Follow Evan McMurry (@evanmcmurry) on Twitter
Have a tip we should know? [email protected]