Ex-Rep. Joe Walsh Says He's Suing Chicago Sun-Times For 'Fabricating' Story About His Child Support Payments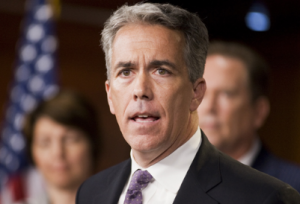 Following the publication of an article about his child support payments, former Congressman Joe Walsh said he plans to sue the Chicago Sun-Times. The paper is "fabricating" the story, he said, a "deliberate attempt to defame" him.
The story in question, by Natasha Korecki, noted that Walsh is still "dogged by questions about child support." Originally, its headline read "Ex-Tea Party Rep. Joe Walsh wants to stop paying child support because he's out of a job." Later, that was changed to "Ex-Tea Party Rep. Joe Walsh insists he's not trying to stop paying child support."
Walsh posted an email from Korecki asking for comment, with the same timestamp the article had. The story was later updated with this comments.
"Two weeks ago, I did what every other father who is paying child support is supposed to do — by law — when their employment situation changes — I modified my support agreement," Walsh said in his statement.
"With my Congressional term ending on January 3, and with my ex-wife having been paid in full through my term in Congress, by law, I filed a modification of my support payments for my remaining unemancipated child for these next four months. This modification called for me to pay my ex-wife 20% of my net income during these four months, which is my responsibility by law."
Saying he's met his obligations required by law, Walsh said the Sun-Times has had a "vendetta" against him. "I have had to live with the 'deadbeat dad label, even though the original case against me was dropped one year ago," he continued, "and my ex-wife acknowledged that I have always been a loving and supportive father."
"This article by the Sun-Times is a deliberate attempt to defame me, and I will sue them immediately," he added.
Have a tip we should know? tips@mediaite.com