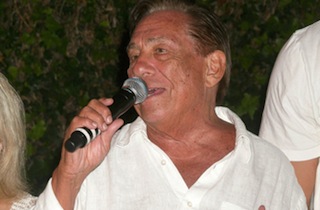 Deadspin has uncovered an extended audiotape that allegedly contains more racially-charged comments from Los Angeles Clippers owner Donald Sterling, these going off on the difference between "white Jews" and "black Jews," his feelings towards the African American players on his team, and more.

The original audio, released by TMZ on Saturday, created a firestorm of reaction, with multiple people calling for Sterling's removal from the league. Here are some highlights from the new extended audio; as with the original, it is not known whether the tape was edited or manipulated. (Transcription via Deadpsin.)
V: Do you know that you have a whole team that's black, that plays for you?

DS: You just, do I know? I support them and give them food, and clothes, and cars, and houses. Who gives it to them? Does someone else give it to them? Do I know that I have—Who makes the game? Do I make the game, or do they make the game? Is there 30 owners, that created the league?
And:
DS: It's the world! You go to Israel, the blacks are just treated like dogs.

V: So do you have to treat them like that too?

DS: The white Jews, there's white Jews and black Jews, do you understand?

V: And are the black Jews less than the white Jews?

DS: A hundred percent, fifty, a hundred percent.

V: And is that right?

DS: It isn't a question—we don't evaluate what's right and wrong, we live in a society. We live in a culture. We have to live within that culture.

V: But shouldn't we take a stand for what's wrong? And be the change and the difference?

DS: I don't want to change the culture, because I can't. It's too big and too [unknown].

V: But you can change yourself.

DS: I don't want to change. If my girl can't do what I want, I don't want the girl. I'll find a girl that will do what I want! Believe me. I thought you were that girl—because I tried to do what you want. But you're not that girl.
There's also discussion a long discussion about Matt Kemp's skin color, and then some stuff on the Holocaust.
Listen to the full audio at Deadspin.
[Image via s_bukley / Shutterstock.com/Screengrab]
——
>> Follow Evan McMurry (@evanmcmurry) on Twitter
Have a tip we should know? tips@mediaite.com