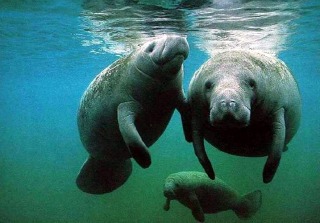 The Tea Party faction located in sunny Citrus County, Florida has become enmeshed in a feud of such epic proportions that it puts Mediaite's vendetta against flamingos to shame.
The U.S. Fish and Wildlife Service recently proposed new regulations aimed at protecting Florida's manatees, an endangered species, including placing restrictions on summer boating. Motor boats, as any Floridian can tell you, don't mix well with slow-moving sea cows. But Citrus County Tea Party Patriots leader Edna Mattos has a problem with these more stringent regulations, as does Jesus:
We cannot elevate nature above people. That's against the Bible and the Bill of Rights.
Other groups, such as the Crystal River City Council and Citrus County Commission, have voiced their own issues with the regulations, worrying that they will have a negative impact on the local economy.
Parts of the Kings Bay area has been a federal wildlife refuge since 1980 and, as the St. Petersburg Times notes, is "the one place in Florida" where people and manatees can swim together. When the area was first named a nature sanctuary, there were only about 100 manatees living within it. That number has since risen to about 550, drawing in thousands of people who watch the sea cows swim and eat and look vaguely rock-shaped. However, thirteen manatees have been killed in boat-related incidents within the past decade, with about half of those deaths taking place during the summer months where boats are permitted to zip through the bay. If the new regulations are approved, all of Kips Bay would be declared a wildlife refuge and boats will no longer be allowed to travel the bay and risk turning manatees into heron snacks — unless you have to live within the restricted area, in which case your boat with require a special sticker permitting you to drive it in and out of the bay.
Mattos fears the regulations are a symptom of "globalist" government intervention designed to "make humans into livestock:"
We believe that (federal regulators') aim is to control the fish and wildlife, in addition to the use of the land that surrounds this area, and the people that live here and visit. … As most of us know, this all ties in to the United Nations' Agenda 21 and Sustainability.
We'll let you make up your own minds about whether people and manatees can coexist peacefully. But note that manatees want nothing more than to snuggle, wear jaunty headgear, and sing educational ditties to impressionable young Floridians:
Have a tip we should know? tips@mediaite.com