'For Those Who Say I'm A Hypocrite…' Jim Carrey Responds To Critics With Defiant Blog Post
'For Those Who Say I'm A Hypocrite...' Carrey Responds To Critics With Defiant Blog Post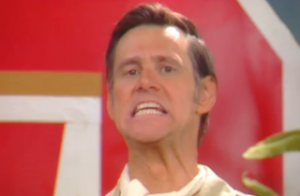 Jim Carrey has been taking major heat from Fox News commentators and other conservatives since his anti-gun music video "Cold Dead Hand" first premiered on Funny Or Die last week. In the days since the video debuted, Carrey has used his Twitter account to defend his motives and retweet messages from supporters. He released a short statement specifically addressing his complaints against "Fux News." And now, in a blog entry on The Huffington Post, he is tackling the larger issues brought up by the video and confronting his critics head-on.
Carrey's post, titled "I Never Wanted to Take Your Guns Away," does not address his fiercest critics by name, but it clearly tries to address some of their concerns. On the accusation that as a Canadian he should not be meddling in American politics, Carrey writes:
"These horrific events are also an invitation for us to become more civilized and to deal with our addiction and entitlement to violence. Not to shut our eyes and ears and scream at those with a different opinion than ours to "fuck off and go back to Canada." I will gladly go back and visit Canada as I have many friends and loved ones there. I am so proud of that country and everything it's given to me, but I am also a naturalized American citizen and I have been bringing as much joy as I can to people in this country for 30 years. I care deeply about our future and I feel it's my duty as a citizen to do everything in my power to make this a better place."
To those who call him a "hypocrite" for employing armed bodyguards, as Ann Coulter did on Hannity last week, Carrey writes:
"For those who say I'm a hypocrite because I have an armed bodyguard, lets make one thing clear: No one in my employ is allowed to carry a large magazine and NO ONE IS ASKING ANYONE TO GIVE UP THEIR RIGHT TO BEAR ARMS, though it is in the vested interests of those who profit by gun sales to make it seem so. It's just the type of arms, the easy access and the means with which to cause massive devastation to good and innocent people that I hope we can limit."
And Carrey is unlikely to win over many new conservative fans with this response to people who belittle him as "just an actor," which was one of Greg Gutfeld's many complaints with the video:
"And to the bullies who will try to marginalize and discredit me by saying, "Shut up, you're just an actor," while they brag about what a great president the ACTOR Ronald Reagan was, who threaten me with the demise of my acting career and much worse, I say SO BE IT! How shallow do they think I am? I would trade my money, my fame, my reputation and legacy if there were the slightest chance of preventing the anguish of another Columbine, Virginia Tech, Aurora, or Sandy Hook Elementary School. I ask you, truly, what manner of human being would not?"
Ultimately, Carrey does not apologize in the post, but rather expresses shock over the "level of hatred heaped upon me" and attempts to explain his reasons for making the video.
Read Carrey's full post at The Huffington Post.
—
>> Follow Matt Wilstein (@TheMattWilstein) on Twitter
Have a tip we should know? tips@mediaite.com