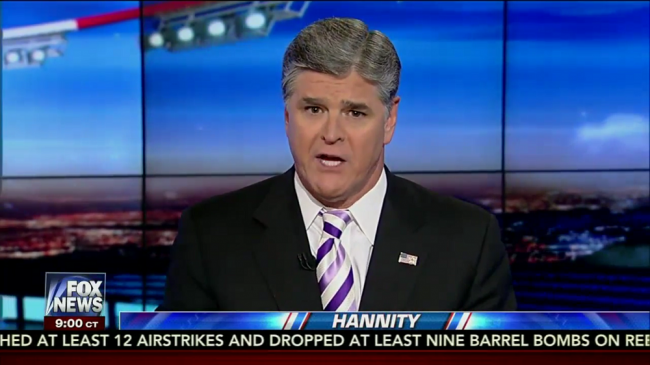 Fox News announced on Thursday that Sean Hannity would be returning to his program following the Memorial Day weekend, despite speculation that he might be on his way out at the network.
"Like the rest of the country, Sean Hannity is taking a vacation for Memorial Day weekend and will be back on Tuesday," the network said in a statement, which was cited in Thursday report from Variety. "Those who suggest otherwise are going to look foolish."
The host is currently in the middle of a controversy involving his promotion of a conspiracy theory surrounding the murder of DNC staffer Seth Rich. Fox News retracted their latest reporting on the case on Tuesday, and Rich's family called on the other promoters of the theory to desist.
Hannity finally decided to stop talking about the case as of Tuesday evening, but the fallout continued for the host. The following day, Cars.com pulled its advertising from the Fox News personality's program.
On Wednesday, Hannity blasted his liberal critics as other advertisers followed Cars.com's example, and asserted that "this is an attempt to take me out. This is a kill shot."
It is not clear what impact the advertisers' decision will have on the future of Hannity's program. Variety's write-up pointed out that "in 2016, the show brought in approximately $65.7 million, according to Kantar Media…a 17% jump from the approximately $56.1 million the show captured from Madison Avenue in 2015."
[image via screengrab]
Have a tip we should know? [email protected]