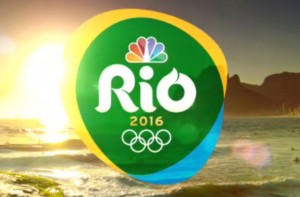 The ratings-plagued 2016 Olympics has its first breakout star. American Swimmer Lilly King forcefully turned back Russia's Yulia Efimova in the 100m Breaststroke, taking the Gold in an Olympic record time of 1:04.93. Efimova has twice tested positive for performance enhancing drugs, and King made no secret of her desire to beat her, wagging her finger Dikembe Mutombo-style at a TV screen showing Efimova during Sunday night's heats. On Monday, King backed up her bravado and won Gold for the USA. The budding rivalry renews on Wednesday, as both King and Efimova are back in the pool for the 200m Breaststroke.
Also in swimming, American Ryan Murphy took Gold in the 100m Backstroke. He too set an Olympic record time en route to his victory, completing the race in 51.97 seconds.
Elsewhere yesterday, host nation Brazil won their first Gold of the Games when Rafaela Silva won the 57 kg Judo competition. And China had a big day, adding two Golds to their total and five medals overall.
Here are the full standings, with countries ranked according to number of gold medals:
1. UNITED STATES 5 Gold, 7 Silver, 7 Bronze – 19 Total
2. CHINA 5 Gold, 3 Silver, 5 Bronze – 13 Total
3. AUSTRALIA 4 Gold, 0 Silver, 3 Bronze – 7 Total
4. ITALY 3 Gold, 4 Silver, 2 Bronze – 9 Total
5. JAPAN 3 Gold, 0 Silver, 7 Bronze – 10 Total
6. HUNGARY 3 Gold, 0 Silver, 0 Bronze – 3 Total
7. RUSSIA 2 Gold, 5 Silver, 3 Bronze – 10 Total
8. SOUTH KOREA  2 Gold, 2 Silver, 1 Bronze – 5 Total
9. THAILAND 2 Gold, 1 Silver, 1 Bronze – 4 Total
10. GREAT BRITAIN 1 Gold, 1 Silver, 2 Bronze – 4 Total
11. BRAZIL 1 Gold, 1 Silver, 0 Bronze – 2 Total
11. SWEDEN 1 Gold, 1 Silver, 0 Bronze – 2 Total
13. TAIWAN 1 Gold, 0 Silver, 2 Bronze – 3 Total
14. BELGIUM 1 Gold, 0 Silver, 1 Bronze – 2 Total
15. ARGENTINA 1 Gold, 0 Silver, 0 Bronze – 1 Total
15. COLOMBIA 1 Gold, 0 Silver, 0 Bronze – 1 Total
15. CROATIA 1 Gold, 0 Silver, 0 Bronze – 1 Total
15. KOSOVO 1 Gold, 0 Silver, 0 Bronze – 1 Total
15. NETHERLANDS 1 Gold, 0 Silver, 0 Bronze – 1 Total
15. VIETNAM 1 Gold, 0 Silver, 0 Bronze – 1 Total
21. INDONESIA 0 Gold, 2 Silver, 0 Bronze – 2 Total
21. NEW ZEALAND 0 Gold, 2 Silver, 0 Bronze – 2 Total
21. SOUTH AFRICA 0 Gold, 2 Silver, 0 Bronze – 2 Total
24. CANADA 0 Gold, 1 Silver, 3 Bronze – 4 Total
25. KAZAKHSTAN 0 Gold, 1 Silver, 2 Bronze – 3 Total
26. UKRAINE 0 Gold, 1 Silver, 1 Bronze – 2 Total
27. AZERBAIJAN 0 Gold, 1 Silver, 0 Bronze – 1 Total
27. DENMARK 0 Gold, 1 Silver, 0 Bronze – 1 Total
27. FRANCE 0 Gold, 1 Silver, 0 Bronze – 1 Total
27. MONGOLIA 0 Gold, 1 Silver, 0 Bronze – 1 Total
27. PHILIPPINES 0 Gold, 1 Silver, 0 Bronze – 1 Total
27. NORTH KOREA 0 Gold, 1 Silver, 0 Bronze – 1 Total
33. UZBEKISTAN 0 Gold, 0 Silver, 2 Bronze – 2 Total
34. SPAIN 0 Gold, 0 Silver, 1 Bronze – 1 Total
34. GEORGIA 0 Gold, 0 Silver, 1 Bronze – 1 Total
34. GREECE 0 Gold, 0 Silver, 1 Bronze – 1 Total
34. POLAND 0 Gold, 0 Silver, 1 Bronze – 1 Total
34. PORTUGAL 0 Gold, 0 Silver, 1 Bronze – 1 Total
[image via NBC Sports]
Have a tip we should know? tips@mediaite.com