Retired Sportswriter Regrets Blogging Juicy Details From Tiger Woods Backstory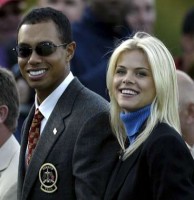 According to a recent blog post on the Tiger Woods saga, "the reports you are reading on TMZ and RadarOnline are about 30% accurate at best:" Tiger and Elin Woods aren't moving towards divorce, Arnold Palmer is trying to help Tiger patch up his marriage, and Tiger hasn't appeared in public since the incident in November because his face was damaged and he needed plastic surgery.
Revealing? Maybe. But just as surprising is the person who posted the account — 91-year-old retired sportswriting great Furman Bisher — and his response to the 43,000+ hits the blog post has gotten: surprise and annoyance.
Bisher's initial post, which he prefaces by saying it was forwarded to him by a "trustworthy journalist I have known for years," purports to provide a long, juicy, detailed play-by-play of the events of the night of Woods' car crash. For instance:
At one point Tiger turned away to look at the TV, and as he turned back, Elin hit him on the right side of the face with the head of a 9 – iron. When she struck Tiger, she put a huge gash in the right side of his face next to his nose (causing his nose to bruise some), and virtually knocking two of his upper teeth out, and breaking the bone on the upper right side. Tiger ran scared as hell out of the house (which is why he had on no shoes) with Elin swinging the golf club throughout the hallway to the garage (i.e. causing the severe damage which has been reported). Tiger hoped in the Escalade and tried to leave; and as we know Elin knocked out the windows in the Escalade. When Tiger crashed, Elin panicked and was not sure what to tell the police (which is why there are two conflicting stories from her).
Given the scraps of scraps gossip sites turned out on the incident, it's perhaps no surprise that an account like this should blow up, even if it was on a barebones, fairly anonymous WordPress site. But Bisher felt compelled to write a response which sounded a trifle naive about the way the Internet works to many in the blogging world. The Business Insider's Nicholas Carlson characterized it as a "get off my blog!" response.
[This post] was not intended for anybody but those who are plugged into my blog—which is free of charge. No subscription charges are involved. Since I retired from daily columning, I simply like to write a few things now and then, and stay in touch with friends, and pass on information from trusted sources. Anybody else who got it is an intruder, no friend of mine. God knows, how 43,000+ people who have nothing to do but peep in on such an insignificant website as mine irritates me.

That, I suppose, illustrates my electronic illiteracy. But, if you are among the offended, then stay off my website. It's for friends only.
As easy a target as Bisher may be for web snark, we say anyone who's still regularly blogging at 91 deserves a pass: though as the episode illustrates, one is never too hold to learn the workings of the Web.
(From Bisher Unleashed; h/t nichcarlson)
Have a tip we should know? tips@mediaite.com