Gawker is removing a piece outing former Obama Treasury Secretary Timothy Geithner's brother David Geithner amidst a massive public backlash.
Gawker received criticism for alleging that David Geithner contacted a male gay porn star offering $2,500 for sex. Critics pointed out that since Geithner is not a public figure and was not outspokenly against gay rights, there was no public interest served in outing a married man with kids.
Capital New York media reporter Peter Sterne was first with the scoop:
Shortly afterwards, Gawker posted a notice that they were taking the piece down. "Gawker is no longer the insolent blog that began in 2003," Gawker founder Nick Denton wrote. "It does important and interesting journalism about politicians, celebrities and other major public figures. This story about the former Treasury Secretary's brother does not rise to the level that our flagship site should be publishing."
"The point of this story was not in my view sufficient to offset the embarrassment to the subject and his family," he continued. "Accordingly, I have had the post taken down. It is the first time we have removed a significant news story for any reason other than factual error or legal settlement."
The original Geitner story now simply reads: "This post has been removed. This post by Gawker CEO Nick Denton has more details."
UPDATE — 2:52 p.m. ET: Gawker's executive editor of investigations John Cook apparently disagrees with the decision, and has made it publicly known (read from bottom up):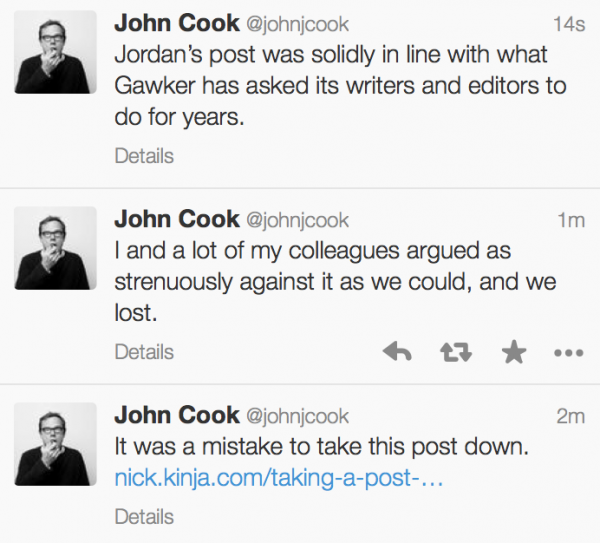 UPDATE — 3:02 p.m. ET: In a separate post, Gawker's J.K. Trotter shed more light on their decision. According to Trotter, Gawker's higher-ups took a vote on the matter, which ended 5-1 to remove the post. Executive editor Tommy Craggs was the sole dissenter.
[Image via screengrab]
——
>>Follow Alex Griswold (@HashtagGriswold) on Twitter
Have a tip we should know? tips@mediaite.com