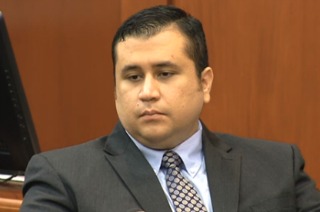 [This story has been updated. See below.]
According to officials, the recently-acquitted George Zimmerman is in custody as police investigate a "possible domestic battery" dispute.
Fox News reported around 2:54 p.m. that Zimmerman's estranged wife, Shellie, called police to report that he was acting "aggressive."

WKMG Orlando reports that "Lake Mary police say they were called to a house on Sprucewood Road Monday afternoon after a report that Zimmerman was involved in an altercation with another person with a threat involved."
The Orlando Sentinel's Jeff Weiner tweeted out more details:
Lake Mary police confirm #GeorgeZimmerman in custody, police investigating "possible domestic battery" on Sprucewood Road.

— Jeff Weiner (@JeffWeinerOS) September 9, 2013
No other information was immediately available, as the police investigation is reportedly ongoing.
— —
UPDATE: The Associated Press reports that Shellie Zimmerman called police, "saying [George] threatened her and her dad with a gun."
— —
UPDATE II: Reporter Matthew Keys posted audio from the police scanner:
— —
UPDATE III: Fox News carried live footage from a helicopter above the home in question:
— —
UPDATE IV: ABC News reports that while Zimmerman is still in custody, his estranged wife and her father refuse to give sworn statements. And they reportedly will not press charges:
George Zimmerman remains detained. Estranged wife & her father refuse to give sworn statement; say they do not want to press charges.

— ABC News (@ABC) September 9, 2013
— —
UPDATE V: George Zimmerman's brother, Robert, tweeted out a word of caution for those jumping to negative conclusions about his sibling's detainment:
We've learned from GZ case not to "jump to conclusions", to wait for facts, & to avoid speculation. "News" is a business – not your friend.

— Robert Zimmerman JR (@rzimmermanjr) September 9, 2013
— —
UPDATE VI: Keys posted full audio of Shellie Zimmerman's 9-1-1 call. Listen below:
— —
UPDATE VII: MyFoxOrlando reports Zimmerman no longer in custody. Gun found at scene was not related to the incident:
Lake Mary Police say a weapon was present during the Zimmerman incident but NOT involved. #FOX35 @jorgekgonzalez @RockitBill

— myfoxorlando (@MyFoxOrlando) September 9, 2013
#GeorgeZimmerman no longer in police custody. Police continue to talk to him in Lake Mary house. #FOX35 @sonniabatta

— myfoxorlando (@MyFoxOrlando) September 9, 2013
— —
[Ed. note: Headline has been updated to reflect that police have confirmed that firearm at scene was not related to the alleged incident.]
Have a tip we should know? tips@mediaite.com