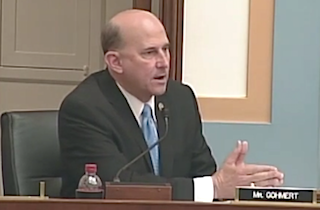 Representative Louie Gohmert (R-TX) continues to be "concerned" about the military training exercise/prelude to martial law named Jade Helm, issuing a statement from his office Sunday calling on the U.S. military to significantly alter the operation.
"When leaders within the current administration believe that major threats to the country include those who support the Constitution, are military veterans, or even 'cling to guns or religion,' patriotic Americans have reason to be concerned," Gohmert wrote.
RELATED: Poll: Sheeple Not Yet Woke About Jade Helm
In his statement Gohmert was troubled by the use of real locales for hostile targets, and even sensed a partisan bias. He wrote:
Once I observed the map depicting "hostile," "permissive" and "uncertain" states and locations, I was rather appalled that the hostile areas amazingly have a Republican majority and believe in the sanctity of the United States Constitution.

When the federal government begins, even in practice, games or exercises, to consider any U.S. city or state in "hostile" control and trying to retake it, the message becomes extremely calloused and suspicious.

Such labeling tends to make people who have grown leery of federal government overreach become suspicious of whether their big brother government anticipates certain states may start another civil war or be overtaken by foreign radical Islamist elements which have been reported to be just across our border.

Such labeling by a government that is normally not allowed to use military force against its own citizens is an affront to the residents of that particular state considered as hostile, as if the government is trying to provoke a fight with them.

The map of the exercise needs to change, the names on the map need to change, and the tone of the exercise needs to be completely revamped so the federal government is not intentionally practicing war against its own states.
Jade Helm got the attention of fringe conservative websites after a map leaked in which states like Utah and Texas were labeled "hostile" for the purposes of the exercise. Fears of the military forcibly capturing states were mainstreamed when Texas Governor Greg Abbott ordered the Texas State Guard to "monitor" the exercise. Since then other figures, including Senator Ted Cruz (R-TX) and Chuck Norris, have voiced concerns over the exercise.
The Pentagon and even Wal-Mart (don't ask) have denied that the exercises are any sort of dry-run for the implementation of martial law.
[Image via screengrab]
——
>> Follow Evan McMurry (@evanmcmurry) on Twitter
Have a tip we should know? tips@mediaite.com