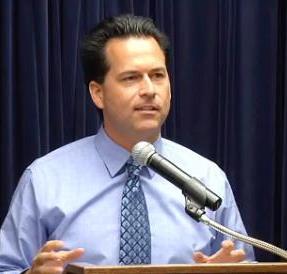 GOP candidate for U.S. Senate Milton Wolf responded to charges that he posted X-rays of injured gunshot patients on social media and joked about them. Wolf, who says he is a distant relation of President Barack Obama and is the author of First, Do No Harm: The President's Cousin Explains Why His Hippocratic Oath Requires Him to Oppose ObamaCare, is challenging incumbent Senator Pat Roberts (R-KA) in Kansas' GOP primary.
In one instance, Wolf posted an X-ray of a patient "decapitated" by gunfire. "One of my all-time favorites," he wrote. "From my residency days there was a pretty active 'knife and gun club' at Truman Medical Center. What kind of gun blows somebody's head completely off? I've got to get one of those."
"It reminds (me) of the scene from Terminator 2," he continued, "when they shoot the liquid metal terminator guy in the face at close range and it kind of splits him open temporarily almost like a flower blooming. We all find beauty in different things."
In a separate instance Wolf joked about repositioning a murdered patient's head for an X-ray of his fatal gunshot wound. "It's not like the patient was going to complain," he wrote. Topeka Capital-Journal's Tim Carpenter alleged that according to the date of the posting and the comments, the X-ray was posted before the victim's funeral. (Wolf refused to speculate on that.)
Carpenter confronted Wolf about the X-rays, asking whether he had permission to post the images, or whether he thought it was professional to be joking about them.
"It's an educational thing for people," Wolf replied. "I take my charge of being a doctor very seriously."
Watch the interview below, via the Topeka Capital-Journal:
[h/t Topeka Capital-Journal]
[Image via screengrab]
——
>> Follow Evan McMurry (@evanmcmurry) on Twitter
Have a tip we should know? tips@mediaite.com