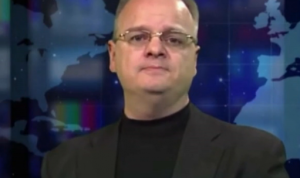 Colorado Republican Representative-Elect Gordon Klingenschmitt, who will represent a very conservative part of the state in the Colorado House, has let his hatred for President Barack Obama be known. Klingenschmitt wrote a book in 2012 — just a few months before the presidential election — called "The Demons of Barack H. Obama: How the Gift of Discerning of Spirits Reveals Unseen Forces Influencing American Politics." Klingenschmitt also hosted an Internet show in which he frequently prayed for President Obama's demons to be let out of him.
Per the book's official description on Amazon:
"This book examines the policies and actions of Barack H. Obama, to compare the moral indicators of his political behavior to Biblical standards of ethical morality, to help us discern what spirits are actually manifesting inside the soul of the 44th President of the United States."
But as The Daily Dot notes, a majority of Americans believe it's possible for someone to be possessed by demons, according to a 2012 Public Policy Polling survey.
Republicans as a whole are not rallying around Klingenschmitt, and even the head of Colorado's state Republican Party distanced himself from Kilngenschmitt earlier this year.
"Gordon does not speak on behalf of the Republican Party," Colorado GOP chairman Ryan Call told the Denver Post. "To suggest otherwise is inaccurate and dishonest."
If you're interested in the representative-elect's book, you can get it for just $2.99.
Watch Rachel Maddow's take on Klingenschmitt below, via MSNBC:
[h/t The Daily Dot]
[Image via screengrab]
— —
>>Follow Andrew Desiderio (@forza_desiderio) on Twitter
[Note: Mediaite intern Andrew Desiderio is a student at The George Washington University.]
Have a tip we should know? tips@mediaite.com