Illegal Immigrant, Registered Sex Offender Working For NJ Sen. Bob Menendez Arrested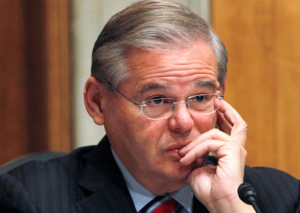 An illegal immigrant and registered sex offender who was working as an unpaid intern for New Jersey Sen. Robert Menendez was arrested, the Associated Press reported. Federal agents were instructed not to arrest him under after Election Day.
Luis Abrahan Sanchez Zavaleta, an 18-year-old immigrant from Peru, is in custody and faces deportation. He was arrested on Dec. 6.
Per the AP:
A spokesman for Immigration and Customs Enforcement did not immediately respond to a request for further details.

Menendez, D-N.J., who advocates aggressively for pro-immigration policies, was re-elected in November with 58 percent of the vote. Congressional staffers who work for Menendez were notified about Sanchez's case shortly after the arrest. Sanchez told ICE agents that he worked on immigration issues for the senator. A spokesman for Menendez said she was looking into the matter.
As for the delay in arresting him:
Authorities in Hudson County notified ICE agents in early October that they suspected Sanchez was an illegal immigrant who was a registered sex offender and who may be eligible to be deported. ICE agents in New Jersey notified superiors at the Homeland Security Department because they considered it a potentially high profile arrest, and DHS instructed them not to arrest Sanchez until after the November election, one U.S. official told the AP. ICE officials complained that the delay was inappropriate, but DHS directed them several times not to act, the official said.
The report noted that since Zavaleta is a registered sex offender, he would not have been eligible for President Obama's policy that halted deportation for many young undocumented immigrants.
Have a tip we should know? tips@mediaite.com