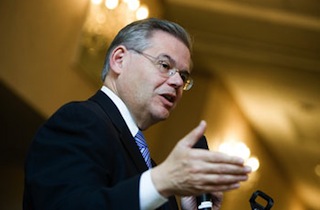 The Washington Post reported on Thursday that a grand jury is investigating New Jersey Sen. Robert Menendez (D). Specifically, the probe is said be "examining his role in advocating for the business interests of a wealthy donor and friend."
The donor in question is Florida ophthalmologist Salomon Melgen — and the investigation is looking into whether the senator intervened with Melgen's port-security contract with the Dominican government. Per WaPo:
Menendez has intervened in matters affecting the financial interests of Florida ophthalmologist Salomon Melgen, seeking to apply pressure on the Dominican government to honor a contract with Melgen's port-security company, documents and interviews show. Also, Menendez's office has acknowledged he interceded with federal health-care officials after they said that Melgen had overbilled the U.S. government for care at his clinic.

Melgen has provided Menendez with plane flights and hospitality at his Dominican vacation home, say people acquainted with their relationship.
FBI agents are reportedly conducting interviews in the Dominican Republic and the United States, and the grand jury has subpoenaed Melgen's business and financial records. The Post said federal agents have not contacted Menendez.
The senator himself said the investigation would not reveal any inappropriate actions on his part.
"I welcome any review, because I believe, at the end of the day, that my actions have been appropriate," he said. "And just as everything that gave rise to this was a smear campaign based on slanders that drove the original story, I believe that when any review reviews the facts, they will determine that I have acted appropriately at all times."
Read the full report here.
Have a tip we should know? tips@mediaite.com