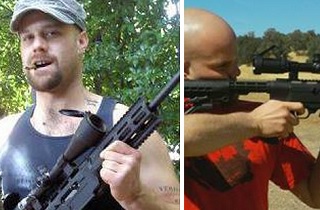 For the better part of a week, police and residents of a Redding, California neighborhood were on the lookout for an armed and dangerous, and possibly unshaven, black man who had allegedly shot Brent Posada in the stomach during a struggle over a handgun. Then, police quizzed Posada about his report on the wound that sent him to the hospital, and discovered that there was no menacing black man, only Posada shooting himself with a high-powered air rifle.
According to the Redding Police Department, officers responded to a report of a gunshot victim at Shasta Medical Center, and when they questioned the victim, Brent Posada, he told them that a "black male adult, mid to late twenties, 6'0", 185 pounds, black hair," approached him and pointed a black handgun at him. Posada said he pushed the man's arm to the side as the gun went off, and he was hit in the stomach. Posada told police the man was wearing a "black hoodie style sweatshirt, blue jeans and black high top shoes with silver stripes."
The shooting, and the suspect's description, were widely reported by local news stations, who interviewed shocked neighbors about the at-large suspect. The news was also likely unwelcome to Redding's 1.2% black population.
This week, though, police disclosed that Posada had made the story up, and that the wound he suffered was self-inflicted:
Investigators examined Posada's clothing as well as pictures of his injuries that were taken on the night of the incident. They found evidence that did not support Posada's assertion that he was shot. On Monday, February 10, 2014, Redding Police Investigators interviewed Posada about the incident. During the interview, Posada admitted that he intentionally shot himself with a high powered air rifle while inside his residence.

Posada was not arrested. The investigation will be forwarded to the Shasta County District Attorney's Office for review regarding Posada filing a false police report.
Here's video of local news reports on the shooting, and Posada's later confession:
(h/t NewsOne)
[photos via Facebook]
Have a tip we should know? tips@mediaite.com