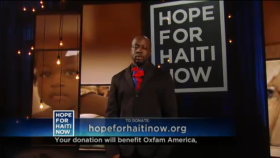 Right now, on umpteen channels across the dial — ABC, CBS, NBC, Fox, CNN, MTV, VH1, BET, the CW, HBO, CMT, PBS, TNT, Showtime, Comedy Central, Bravo, E!, Oxygen, G4, Current and more — plus scores of websites via embeddable livestreams, the "Hope for Haiti Now: A Global Benefit for Earthquake Relief" telethon is sending the message to a battered nation that the world cares, and will help. Prime mover George Clooney is hosting in LA with Yele Haiti's Wyclef Jean (pictured) in New York and Anderson Cooper in Port-au-Prince, and they and the organizers at MTV have marshaled a truly stunning array of celebrities to pitch into the cause — on the performing side, from Bruce Springsteen, Shakira, Beyonce, Alicia Keys, Haitian artist Emeline Michel, Jennifer Hudson, Mary J. Blige, Taylor Swift, Sting Christina Aguilera, John Legend and Justin Timberlake; answering phones, Samuel L. Jackson, Tim Robbins, Tobey Maguire, Chevy Chase, Jeremy Piven, Meg Ryan, Charlize Theron, David Arquette, Mel Gibson (!), Leo Di Caprio, Steven Spielberg, John Krasinski, Emily Blunt, Robin Williams, Billy Crystal, Reese Witherspoon, Sigourney Weaver, Amanda Peet, Ellen Degeneres, Julia Roberts and Neil Patrick Harris — all for charities including Oxfam, Partners in Health, Unicef, Red Cross and Yele Haiti.
Watch at here.
The performances are beautiful but the stories told are truly tragic, and harrowing — what Wyclef Jean had to say about what he's been doing in Haiti, moving rubble and burying friends, should quell some of the noise about his Yele Haiti finances, for a bit at least — but for now, this is about people putting all that (even that line between journalist and advocate and celebrity) behind in order to come together to make a difference.
How to make it:
There are many ways viewers can contribute to the telethon. Donations can be made online at HopeForHaitiNow.org, over the phone by calling (877) 99-HAITI, by texting the word "GIVE" to 50555 or by mail addressed to Hope for Haiti Now Fund, Entertainment Industry Foundation, 1201 West 5th St., Suite T-700, Los Angeles, CA, 90017.

Video: George Clooney's Opening Remarks & Bruce Springsteen's Performance



Video: Madonna Performs 'Like A Prayer'

Have a tip we should know? tips@mediaite.com