How National Review and Michelle Malkin Got into Fight About Doctored Walmart Photo
"Ask Venezuelans How Sanders-Style Socialism Is Working Out for Them" blared the headline of Michelle Malkin's anti-Bernie Sanders piece at the National Review lat week. It was illustrated with a photo purporting to show the grimy, empty shelves of a Venezuelan supermarket: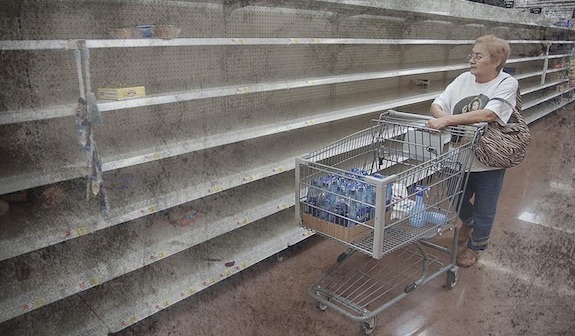 That sure is gross. And fake: Little Green Football's Charles Johnson, having beaten the boss on the last level of the game, ran the image through Google image search and found it is actually from a Walmart in Austin, Texas, and was taken when 2005's Hurricane Rita led to sold-out bread aisles: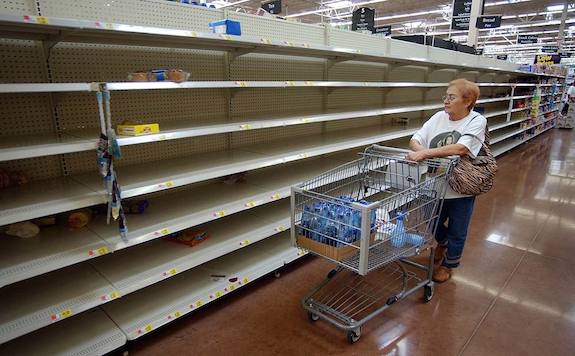 The photo was "dirtied" and English-language signs cropped out, though whether the changes were made by NRO was initially unclear. A weekend's worth of blame initially fell to Malkin, who used the liberal pushback as reason to demand NRO fix the image:
Hi @nro @richlowry -Pls make clear that I had NOTHING to do w/the pic you printed w/my syndicated column. Sick of seeing my name smeared.

— Michelle Malkin (@michellemalkin) June 2, 2015
Libs are abjectly stupid, but @nro @richlowry need to address this mess ASAP. Sick of clearing my name when I did NOTHING wrong.

— Michelle Malkin (@michellemalkin) June 2, 2015
@RyanBLeslie @NRO @RichLowry @AddInfoOrg Misleading photo is not cool. Failing to forthrightly acknowledge the photo botch is even worse…

— Michelle Malkin (@michellemalkin) June 2, 2015
RELATED: The Week Everyone Began Taking Bernie Sanders Seriously
National Review editor Rich Lowry admitted to the mistake on Twitter Monday evening:
@michellemalkin @AJDelgado13 @NRO Yep, it was entirely our mistake, and we took it down after it was pointed out that it was erroneous

— Rich Lowry (@RichLowry) June 2, 2015
…and the piece now carries the following correction at the bottom:

Nonetheless, Malkin continued asking Tuesday for the site to make clear that she was not responsible for the photo selection:
So @wendygittleson corrects her smear. Still nothing yet at @nro noting that I had NOTHING to do w/their pic botch. http://t.co/dUasLddeI5

— Michelle Malkin (@michellemalkin) June 2, 2015
Lowry finally addressed the image in the post Tuesday morning, insisting that empty-shelf photos from Venezuela exist but that the site had posted the Austin photo by mistake. He clarified that the "weathered look" was added by NRO's image editor, part of the site's aesthetic.
Everybody delete your accounts.
[h/t Little Green Footballs]
——
>> Follow Evan McMurry (@evanmcmurry) on Twitter
Have a tip we should know? tips@mediaite.com