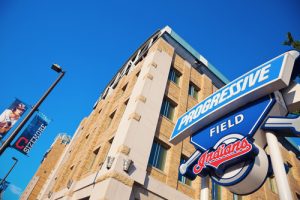 It was a long, frustrating weekend at Wrigley Field for the Chicago Cubs. But they finally broke through in Game 5 of the World Series, topping the Cleveland Indians 3-2 to stave off elimination and keep their hopes alive.
After a travel day Monday, the teams are back in Cleveland for Game 6. The Cubs' hopes rest on the right arm of 2015 Cy Young Award winner Jake Arrieta, who gets the start for Chicago. Arrieta pitched well in his Game 2 victory in Cleveland, allowing just one run over 5.2 innings. With closer Aroldis Chapman having pitched 2.2 innings to get the save on Sunday, Cubs skipper Joe Maddon is undoubtedly looking for Arrieta to take Chicago as deep into the game as he can.
Meanwhile, for the third straight game, Cleveland sends out a pitcher who's returning on short rest. Josh Tomlin, who went 4.2 scoreless innings in Game 3, takes the ball tonight for Cleveland. Tomlin has been a bit of an unsung hero for Cleveland in the 2016 postseason. While ace Corey Kluber and the dynamic bullpen duo of Andrew Miller and Cody Allen have gotten most of the headlines, Tomlin has been solid in his three starts, allowing just three earned runs over 15.1 innings. And Cleveland has won all three of the games in which he's pitched. If he can do it one more time, Cleveland will be celebrating their first championship since 1948.
First pitch is at 8:08 p.m. ET. The game will air on FOX. Joe Buck and John Smoltz have the call. The action can be streamed free with a cable subscription on pc, cell phone, or tablet via Fox Sports Go — which can be downloaded via the iTunes store, the Google Play store, and the Windows store.
[image via Henryk Sadura – ShutterStock]
Have a tip we should know? tips@mediaite.com