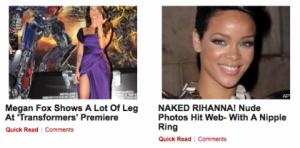 Alas, this has not been ripped straight from the pages of The Onion. More than two months after the Washington City Paper published an April Fool's Day parody of the Huffington Post homepage HuffPo has decided to retaliate!
The worlds biggest news aggregator — and current 'person of interest' in the death of newspapers — has suddenly taken issue with a link in the parody that links back to the real HuffPo and wants the paper to pull the parody page altogether. Why the sudden interest? No official word yet, but it seems more than mere coincidence that just yesterday the very same Washington City Paper published a piece by Amanda Hess excoriating the site for it sexist link-baiting.
What's a local paper, currently in Chapter 11, to do? WCP editor's Erik Wemple's sent his "HuffPo's not worth one penny or our money" email to the Times' David Carr , and we think it deserves to be reprinted here in full:
"At this point, we have no plans to expunge this particular page from digital history. Our view—and we have not consulted any lawyers about this—is that our Huffington City Paper page is full-on parody and thus protected from any challenge based on copyright law or some such. We put it up on our site for one day and took it down–and that should have been the end of story. It's akin to a print publication that did a parody issue: After it has receded to the archival stacks, who the hell cares? In the Web world, that's where this thing was sitting. If HuffPo persists in its quest to disappear this kind little tribute to their Web-design expertise, I can't imagine fighting it out with them. We're in Chapter 11, and I wouldn't spend a penny of our money consulting a lawyer on something so dumb and yesterday. I would, however, chronicle every twist of our discussions with HuffPo on our blog."
According to Carr, HuffPo's glass house has yet to issue a response.
UPDATE: Arianna tells Carr it was all a big misunderstanding.
Have a tip we should know? [email protected]