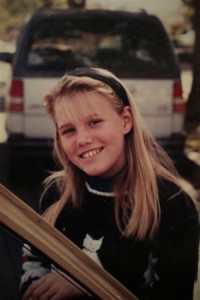 Talk about a one-track mind! When Mark Whicker heard the tragic story of Jaycee Dugard, who was kidnapped as a child and held captive for 18 years by a convicted sex criminal and religious loon, all he could think of was the sports milestones she missed. But instead of confining this crass, narrow-minded realization to a drunken card game conversation, he went and turned it into an entire sports column for the OC Register.
"It doesn't sound as if Jaycee Dugard got to see a sports page," it begins, before recounting notable accomplishments (in another context!) from Barry Bonds, Michael Jordan, John McEnroe and more. And though the entire conceit reeks of trivialization and insensitivity, worse are Whicker's petty, feigned attempts at sympathetic jokes. "She never saw a highlight," he opines. "Probably hasn't high-fived in a while." But that's not all:
She was not allowed to spike a volleyball. Or pitch a softball. Or smack a forehand down the line. Or run in a 5-footer for double bogey.

Now, that's deprivation.
Gulp. And then there's the kicker, in pun form as columnists are wont to do: "Congratulations, Jaycee. You left the yard."
"Too soon" doesn't even begin to describe it. To call the idea half-baked could qualify for understatement of the month, but the fact that this piece probably had an editor makes it all the more baffling. That means at least two people thought this was a good idea — funny, clever, and appropriate. But the online outrage has been more than sufficient.
Obviously, as Romenesko is reporting, Whicker has since apologized, calling the effect of the column "miscalculated" and repenting explicitly to the paper's readers, buyers and of course, advertisers. "I'll try to earn back the trust of those customers in my future endeavors." But as this is likely the first, it will also probably be the last time anyone checks out a Mark Whicker column. As sportscaster Chris Berman says, "Gone!"
Have a tip we should know? tips@mediaite.com