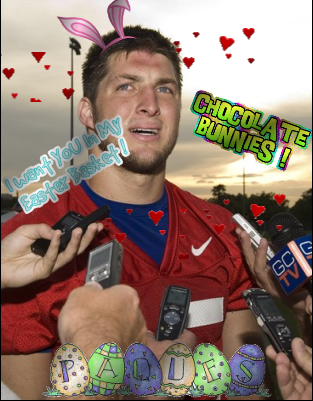 Easter, for those of you not familiar with the holiday, is the day we gather together to celebrate Tim Tebow, who was hatched from a giant chocolate egg laid by a magical rabbit under a shimmering rainbow comprised of dancing Beyonce .gifs.
The very aptly named Celebration Church of Georgetown, Texas is celebrating the occasion by having the football player give a sermon to as many as 30,000 people.
RELATED: Behold The Story Of Tim Tebow As Told In An Easter Passion Play
NBC Sports' Pro Football Talk reports:
"Obviously it's our Super Bowl," said Joe Champion, pastor at the Celebration Church. "Easter is the resurrection of Christ, which we celebrate in our faith. We feel like it's going to be a testimony to the community. We want it to be a family event."

Tebow recently got a mani-pedi (first time I've ever typed that phrase) to get himself ready for the festivities, but Pastor Champion wants to make clear that it's not all about glorifying Tebow.

"There will be the sacredness of Easter," Champion said. "It's not a Tim Tebow show. It's not about a celebrity. There's really only one celebrity that we are going to honor and highlight."
Well, we can only hope that Tebow chose a seasonally-appropriate pastel shade for his nails (I'm wearing lavender this week, thank you) and that all 30,000 people who come to hear him speak keep in mind that Easter is about, sure, honey-glazed ham brunch buffets and off-brand jelly beans and relatives dressed in their finest upholstery, but it is PRETTY MUCH MOSTLY about a man who is not inclined to take your b.s.
h/t NBC Sports
Have a tip we should know? [email protected]