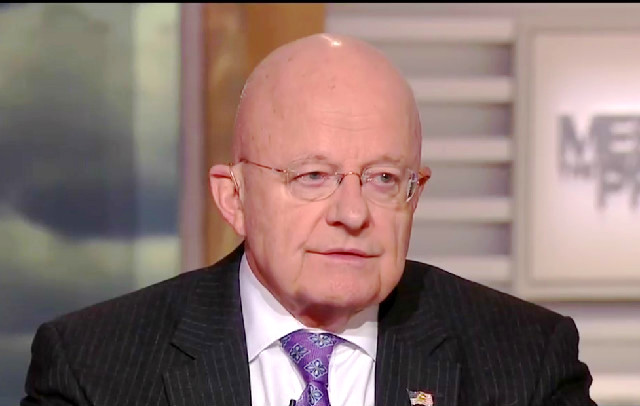 As numerous Congressional Committees and special counsel Robert Mueller continue to take stock of the damage cause by Russian election interference, one respected voice in the intelligence community already has a very bleak assessment.
In a podcast interview with Politico's Susan Glasser, former Director of National Intelligence James Clapper said that Russian President Vladimir Putin likely considers his campaign against the United States to be a smash hit.
"[T]he Russians succeeded, I believe, beyond their wildest expectations," Clapper said. "Their first objective in the election was to sow discontent, discord and disruption in our political life, and they have succeeded to a fare-thee-well. They have accelerated, amplified the polarization and the divisiveness in this country and they've undermined our democratic system."
Clapper had no kind words for President Donald Trump — as he strongly criticized the White House over Trump's recent condolence call to a Gold Star widow. Still, he wonders whether a hypothetical ouster of Trump via impeachment or the 25th Amendment might play into the Russians' hands, given that Trump's base would likely be furious and more conspiracy theories are bound to pop up.
"I'm not sure that an outcome like that—the president's removal would be a good thing," he said.
[image via screengrab]
——
Follow Joe DePaolo (@joe_depaolo) on Twitter
Have a tip we should know? [email protected]
---
Joe DePaolo - Senior Editor