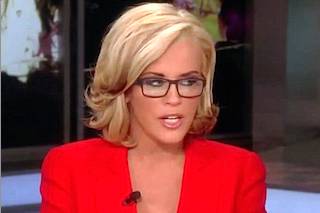 Jenny McCarthy is known more for her work as a talk show host on The View and anti-vaccination views than she is for her acting work, but in an interview with Pride Source magazine published this week, she revealed her "favorite role ever": Brandi, David Spade's transgender best friend on the sitcom Just Shoot Me.
Asked what made her love playing Brandi (formerly Burt) so much, McCarthy answered, "because I feel like that inside. I always felt like one of the guys wearing, like, a Playboy bunny outfit. I was David Spade's buddy to begin with, so I was a natural fit, and I always felt like his brother. To play kind of the dude was almost too scary natural."
Later in the interview, McCarthy said, "I have two gay men who have helped me raise my son" and added she would be thrilled if her son came out to her as gay. "Oh my god, I would be so excited," she said. "We can shop! Do my hair!"
Perhaps, McCarthy was attempting some damage control following what appeared to be a transphobic joke she tweeted and deleted earlier this year:

Then, in July, McCarthy joked on The View about Hillary Clinton being a lesbian before later apologizing for her comments, saying she realized she was a "hypocrite" for calling on women to empower each other and then making a joke like that.
But her latest comments about playing a transgender woman are already receiving similar backlash. "Comments like McCarthy's, while possibly coming from a good-natured — though decidedly ignorant — place, trivialize the experiences of transgender people who routinely face grave discrimination and violence because of their gender identity," the Huffington Post wrote.
"Um, no," Bustle's Kadeen Griffiths added. "I think what McCarthy doing when she says something like that is belittling the transgender community's struggle for tolerance, acceptance, and understanding from wider society. Being trans is about more than just 'feeling like a guy' when you're not one."
[Photo via screengrab]
— —
>> Follow Matt Wilstein (@TheMattWilstein) on Twitter
Have a tip we should know? tips@mediaite.com