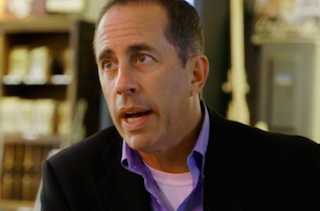 As Jerry Seinfeld gears up for the sixth season premiere of his popular web series, Comedians in Cars Getting Coffee, he made an appearance Wednesday at the Upfront presentation for Crackle, which produces and distributes the show. In comments transcribed by Tubefilter.com's Joshua Cohen, the creator of what many believe to be television's greatest sitcom made a bold statement: "TV is over."
Preempting the question from reporters about why he would choose to do his show online, with Crackle, as opposed to on television with a big network, Seinfeld said, "I did a TV show. I loved that experience. I really had the full experience that you could have on TV. And I thought if I wanted to do something else, I wanted to be a part of inventing a new experience for viewers." He explained that for him, it makes no difference how people are viewing what he is putting out in the world.
Then came the money quote:
"There's nothing different about what we're doing than what anyone else is doing on any media anywhere. TV networks are worried that you'll figure out TV is over and there's nothing special about it."
As Seinfeld pointed out, Comedians in Cars has now been viewed by over 100 million online, likely far more than would watch it on traditional TV.
But despite this progressive attitude, Seinfeld did share some harsh words for everyone else who is attempting to create "user-generated" content.
"I don't want to see this crap," he said. "We have a giant garbage can called YouTube for user-generated content. We're trying to generate a little higher level. I think showbusiness is for talent, that's who should be in it. But let's keep it in its hierarchy. And I like being at the top of the pyramid."
[Photo via screengrab]
— —
>> Follow Matt Wilstein (@TheMattWilstein) on Twitter
Have a tip we should know? tips@mediaite.com