Actor Accuses Kevin Spacey of Making Sexual Advances Towards Him When He Was 14 Years Old (UPDATE)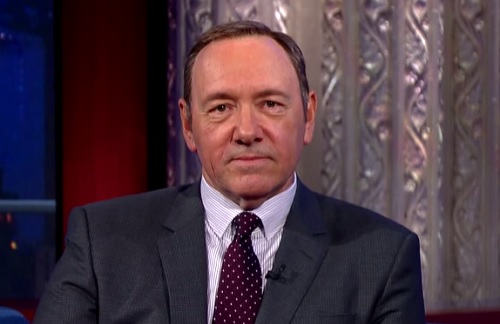 Academy Award-winner Kevin Spacey is the latest public figure to be accused of sexual harassment.
In a new report from Buzzfeed, actor Anthony Rapp alleges that back in 1986, Spacey tried to "seduce" him at a party. Rapp was 14 years old at the time and Spacey was 26.
Rapp met Spacey while the both of them were performing on Broadway. Spacey had invited Rapp to a party at his apartment. After he arrived, Rapp noticed he was the only nonadult there and he "didn't know anyone." So out of boredom, the teen actor walked into Spacey's bedroom to watch TV.
Spacey later appeared at the doorway "kind of swaying."
"My impression when he came in the room was that he was drunk," Rapp said.
It was then when Rapp noticed that everyone else had left and it was just the two of them in the apartment.
"He picked me up like a groom picks up the bride over the threshold," Rapp recalled. "But I don't, like, squirm away initially, because I'm like, 'What's going on?' And then he lays down on top of me."
Rapp alleges that Spacey was "pressing into [him]" and  "tighten[ed] his arms."
"He was trying to seduce me," Rapp said. "I don't know if I would have used that language. But I was aware that he was trying to get with me sexually."
Rapp said he squirmed away into the bathroom, where he saw a picture of Spacey with another man.
"So I think on some level I was like, Oh. He's gay. I guess.Then I opened the door, and I was like, 'OK, I'm going to go home now.' He followed me to the front door of the apartment, and as I opened the door to leave, he was leaning on the front door[frame]. And he was like, 'Are you sure you wanna go?' I said, 'Yes, good night,' and then I did leave."
The Star Trek: Discovery star chose to come forward in light of other recent sexual harassment allegations that have come to light. Rapp is now 46.
"And not to simply air a grievance," he said, "but to try to shine another light on the decades of behavior that have been allowed to continue because many people, including myself, being silent. … I'm feeling really awake to the moment that we're living in, and I'm hopeful that this can make a difference."
UPDATE (12:12AM): Spacey released a statement saying he does not remember the encounter but offered an apology. He also confirmed his sexuality.
— Kevin Spacey (@KevinSpacey) October 30, 2017
[image via screengrab]
Have a tip we should know? tips@mediaite.com