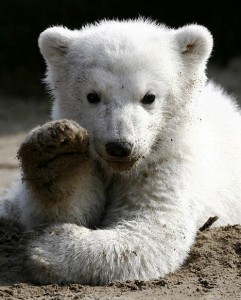 Remember Knut, the adorable German polar bear initially rejected by his mother but then taken in by zookeeper Thomas Dorflein, whose care allowed the cub to become a celebrity due to his almost frightening cuteness? Heartwarming, right? Well, sadly, no aspect of this story met a happy ending. Dorflein died in 2008, and today came the heartbreaking news that Knut is no longer with us, either.
From the AP:
The world-famous bear died alone in his compound, bear keeper Heiner Kloes told The Associated Press.

"He was by himself in his compound, he was in the water, and then he was dead," said Kloes. "He was not sick, we don't know why he died."
Yes, in case you weren't sad enough already, they had to throw in "died alone." And as far as cause of death: Knut was born in late 2006, and according to polarbearsinternational.org, polar bears generally live 15 to 18 years in the wild, and in captivity, often into their 30s, so whatever it was, one would think it couldn't have been natural causes. The report says a postmortem on Monday will attempt to determine the cause of death.
It's all wrenching…and then, the AP threw in this detail:
Between 600 and 700 people were at Knut's compound and saw the four-year-old bear die, German news agency DAPD reported.
We suggest looking at, say, this picture of kittens playing with each other or this picture of a polar bear sort of high fiving a kid in order to improve your mood. Or, if you're a real glutton for punishment, you can watch the video below, of baby Knut doing cute polar bear cub things as a song (one that appears to have been written for one of those Sarah McLachlan ASPCA commercials about dogs who've never been loved) plays in the background. At this rate, tune in here for posts about Futurama episode "Jurassic Bark" and the opening sequence of Up, probably.
Picture of Knut from September 2010 below: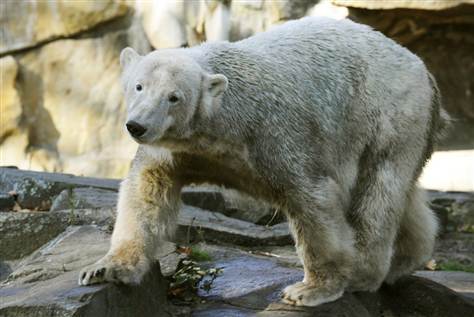 Have a tip we should know? tips@mediaite.com