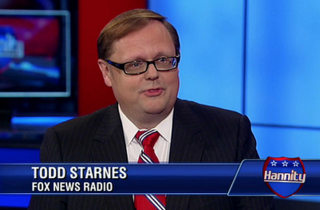 As we just reported this morning, the Baltimore City State's Attorney Marilyn Mosby announced that an investigation found the death of 25-year-old Freddie Gray to be a homicide. Warrants have been filed for the arrest of six Baltimore City police officers involved in the incident earlier this month, in which Gray suffered a spinal injury while in custody, later passing away. Some of the charges to be filed include second degree murder, involuntary manslaughter, and assault.

Now if you had to take one guess which Fox News pundit would react in the ugliest fashion to the news, you'd probably have thought Todd Starnes. And you would be correct, because, well, that's just his thing.
The notoriously incendiary conservative commentator took to Twitter during Mosby's remarks to suggest the attorney simply has it out for Baltimore police:
The Maryland state's attorney has declared war on law enforcement.

— toddstarnes (@toddstarnes) May 1, 2015
Maryland State's Attorney: "I have heard your call for no justice, no peace." #antipolice

— toddstarnes (@toddstarnes) May 1, 2015
That smirk at the end of the states' attorney's remarks spoke volumes. #BaltimoreRiots #antipolice

— toddstarnes (@toddstarnes) May 1, 2015
Normally when Starnes has one of his authoritarian hissy-fits, the left goes apoplectic while much of the right prefers to ignore him (some, of course, support him). But this time, the mockery of his comments came equally from both sides of the proverbial aisle.
Some from the conservative media world:
Rule of law is just the worst, isn't it? RT @toddstarnes: The Maryland state's attorney has declared war on law enforcement.

— T. Becket Adams (@BecketAdams) May 1, 2015
Todd Starnes is a well adjusted human https://t.co/P113BH6fMg

— JustinGreen∞ (@JGreenDC) May 1, 2015
And now for a statement from Conservatives Against the Rule of Law https://t.co/EOCnyARb82

— Lachlan Markay (@lachlan) May 1, 2015
Dear Baltimore, what if we just give you Todd Starnes and call it even?

— Stephen Miller (@redsteeze) May 1, 2015
And a sampling from the left:
Fox News' @toddstarnes is always, without fail, the absolute worst pic.twitter.com/SbeFJd5paR

— pourmecoffee (@pourmecoffee) May 1, 2015
The State's Attorney *is* law enforcement. https://t.co/FcNWsRTDwC

— Media Matters (@mmfa) May 1, 2015
— —
Have a tip we should know? [email protected]