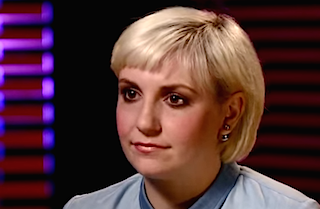 For the second time in as many months, a portion of Lena Dunham's memoir, Not That Kind of Girl
, has come under fire, primarily from critics on the conservative side of the political spectrum. This time, the outrage surrounds a description of sexual assault in the book and the former right-leaning Oberlin classmate who allegedly committed it.
After staying silent on social media and elsewhere since the story began to bubble up last week, Dunham has now taken to the pages of BuzzFeed, where she published a lengthy essay explaining why she chose to speak out about her experience in the first place and respond to those who have been questioning the legitimacy of the story she told.
"To be very clear, 'Barry' is a pseudonym, not the name of the man who assaulted me, and any resemblance to a person with this name is an unfortunate and surreal coincidence," Dunham wrote, addressing the man who believes she was describing him and denies ever even meeting her. "I am sorry about all he has experienced."
While she wrote she was "not naïve enough to believe the essay in my book would be met with pure empathy or wild applause," she said she "hoped beyond hope that the sensitive nature of the event would be honored, and that no one would attempt to reopen these wounds or deepen my trauma."
She continued:
But this did not prove to be the case. I have had my character and credibility questioned at every turn. I have been attacked online with violent and misogynistic language. Reporters have attempted to uncover the identity of my attacker despite my sincerest attempts to protect this information. My work has been torn apart in an attempt to prove I am a liar, or worse, a deviant myself. My friends and family have been contacted. Articles have heralded "Lena Dunham's shocking confession." I have been made to feel, on multiple occasions, as though I am to blame for what happened.

But I don't believe I am to blame. I don't believe any of us who have been raped and/or assaulted are to blame. At the end of the day, it doesn't matter what is written about me individually. I accept the realities of being in the public eye. But I simply cannot allow my story to be used to cast doubt on other women who have been sexually assaulted.
"Survivors have the right to tell their stories, to take back control after the ultimate loss of control. There is no right way to survive rape and there is no right way to be a victim," Dunham concluded. "What survivors need more than anything is to be supported, whether they choose to pursue a criminal investigation or to rebuild their world on their own terms. You can help by never defining a survivor by what has been taken from her. You can help by saying I believe you."
Following the claims from the real-life Barry, Dunham's publisher Random House indicated plans to alter future versions of the book to clarify that the author is using a pseudonym when she discusses the man who she accuses of raping her.
Read the full essay at buzzfeed.com.
[Photo via screengrab]
— —
>> Follow Matt Wilstein (@TheMattWilstein) on Twitter
Have a tip we should know? tips@mediaite.com