Liberals, Stop With The 'N-Word' Thing. There Are Plenty Of Real Reasons To Hate Santorum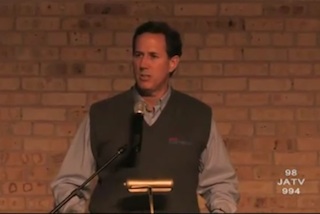 Hey, did you guys hear that Rick Santorum said "n*gger"?! Well, he didn't really say "n*gger," he said "nig," and he didn't really say it as much as he made a noise that kind of sounded like it while he stumbled over his words. But he totally did that! By the way, did you also hear that he's an extreme social conservative whose policies would set our society back decades? Maybe we should focus on that.
This morning, the Internet is ablaze with the story of the Stutter Heard 'Round the World. At an event in Wisconsin yesterday, Santorum was talking about the President and said something odd.
"We know the candidate Barack Obama, what he was like. The anti-war government nig…America was a source for division around the world, that what we were doing was wrong."
So, what was that "nig"? Did a presidential candidate almost just call the first black president the worst possible thing you can call the first black president (besides "one-term")? Uh…probably not. But that doesn't mean it can't be a huge story!
Liberal writers and news outlets are handling this in different ways. Some are merely covering the denial Santorum's spokesperson made afterwords. Some are flat out saying he said it. Some are saying he didn't but, y'know, he like totally could have. And, perhaps most ingeniously, others are letting their readers decide what Santorum said which, if I can interpret blogger speak correctly, translates as "No, he probably didn't, but this will get awesome SEO."
The whole thing seems like reaching and what's so ridiculous is that liberals really don't have to reach to find reasons not to like Santorum. Unlike, say, Mitt Romney, he's a guy who actually believes the crazy things he's saying. He really does want to take away your porn, birth control, cultural heritage, and gay rights. He wants to put this country in a time machine powered by faith and send us back to a time where sweater vests were cool and everything else sucked. Who cares what it sounds like when a guy like that mumbles? Lets just use our ears to listen to what he's saying when he speaks clearly.
And, to move off Captain Google for a second, could this whole silliness be any more stereotypically liberal? Conservatives love to mock liberals for "playing the race card" and stuff like this just gives them the right to do it. To paraphrase Zuzu, every time you hear a race card getting dropped, an actual racist gets to actually be racist.
So, please, can we treat this nonstory like what it is; not a story? Just lay off the manufactured outrage for a few minutes. I promise that Santorum will say something to engender actual outrage before you even know it!
Watch the shocking guttural sound below:
Have a tip we should know? tips@mediaite.com