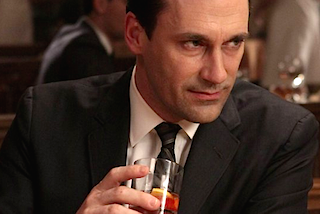 When viewers tune in to watch Don Draper drink heavily in the final season of Mad Men, premiering next Sunday, April 5, they will do so with the knowledge that Jon Hamm, who portrays the now-iconic 1960s ad man, has just emerged from a stint in rehab for his own alcoholism. A spokesperson for the actor confirmed as much earlier this week and now Hamm has spoken out for the first time about it in an interview with Australian magazine TV Week.
"Life throws a lot at you sometimes and you have to deal with it as much as you can," Hamm said, without giving away too many details. "That's why you have family and friends and co-workers to help you with that. I've been very fortunate that throughout the most recent 24-hour period. I've had a lot of family and friends support me. I guess that's all I will say about that."
In response to reports that playing such a dark character on Mad Men for so many years in some way led him to abuse alcohol, he added, "I've said in varying ways that acting can be a difficult endeavor, certainly not as difficult as the recent example I used of being a baby heart surgeon. But, it does present its own challenges and so does life."
"I understand it constitutes news these days," Hamm said, "but it's between me and my family and not something for public consumption."
So, with any luck, he can now move on without having to discuss it again.
[h/t Uproxx]
[Photo via screengrab]
— —
>> Follow Matt Wilstein (@TheMattWilstein) on Twitter
Have a tip we should know? tips@mediaite.com