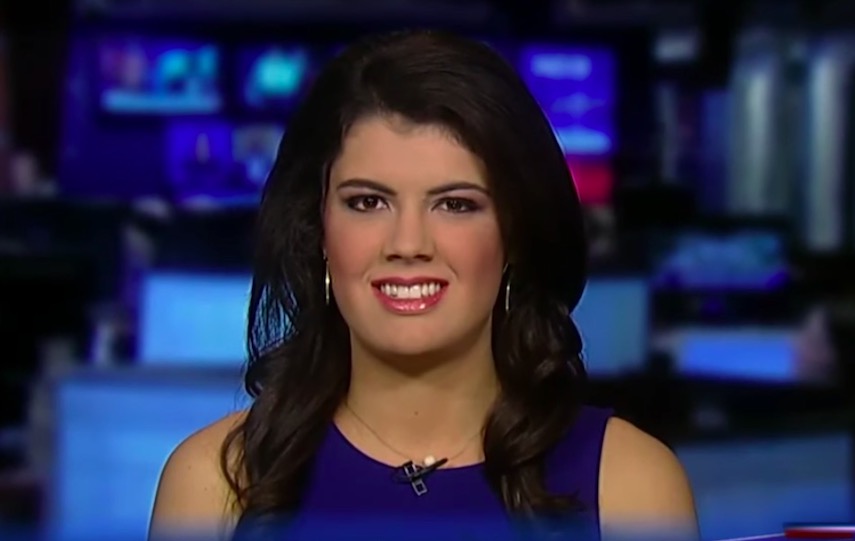 Bre Payton, a writer for The Federalist and regular guest on Fox News, passed away Friday after going into a coma. She was 26.
Payton was found unconscious Thursday morning by a friend, Morgan Murtaugh, and was taken to a nearby hospital in San Diego. There, according to Murtagh, she was diagnosed with H1N1 flu — possibly meningitis — and passed away the day after.
24 hours ago I found my friend unconscious and called 911. She's been in a coma since and really needs a miracle right now. Please, if you're religious at all, send prayers this way. We really need them. https://t.co/QqeXn0N6g2

— Morgan Murtaugh (@morganmurtaugh) December 28, 2018
Thank you everyone for your prayers. It is with a heavy heart that I type this. Unfortunately Bre has passed. Please send prayers to her family. Rest in paradise you beautiful soul. https://t.co/pMFCZNaqKl

— Morgan Murtaugh (@morganmurtaugh) December 28, 2018
After the sudden and tragic news of Payton's death was announced, friends, colleagues and fans of Payton flooded Twitter with messages remembering her and expressing dismay at her passing.
Ben and I are absolutely gutted and horrified by this news. Our prayers for @Bre_payton and her family. We are less without her – in every possible way. A wonderful, fearless, vibrant, intelligent young woman. Sending prayers to all of her family and friends during this darkness. https://t.co/K5nfRiB7gy

— Meghan McCain (@MeghanMcCain) December 28, 2018
RIP my dear friend. I saw her only a few weeks ago. My thoughts are with her family and boyfriend at this terrible time. https://t.co/CPpqJJob5w

— Saagar Enjeti (@esaagar) December 28, 2018
RIP my dear friend. I saw her only a few weeks ago. My thoughts are with her family and boyfriend at this terrible time. https://t.co/CPpqJJob5w

— Saagar Enjeti (@esaagar) December 28, 2018
Writing through tears. Bre was the most beautiful soul to grace this world. She was loyal to her friends, faith, and convictions. I first met Bre when she was my intern years ago, and it has been a privilege to call her a dear friend. Heaven is brighter, but earth cries today. https://t.co/XASiJd2ima

— Kathryn Watson (@kathrynw5) December 28, 2018
I cannot believe this. @Bre_payton was such a beautiful light, smart and funny and kind and talented. Please pray for her broken hearted loved ones, who are undoubtedly reeling. She was far too young. ??? https://t.co/gLJbqIP8g9

— Shannon Bream (@ShannonBream) December 28, 2018
terrible news. to God we belong, and to Him is our return. inna illahee wa inna illayhee raji'un. rip Bre Payton. https://t.co/2Ci2xe9jgq

— siraj hashmi (@SirajAHashmi) December 28, 2018
Oh dear God no. Such a lovely young woman and I was blessed to know her. https://t.co/PnCko2HNT5

— Mark Hemingway (@Heminator) December 28, 2018
So so so awful. Bre was always such a joy to be around ? https://t.co/thIiysYKWM

— Kat Timpf (@KatTimpf) December 28, 2018
Just awful. Very very sorry for your loss.

— Chris Hayes (@chrislhayes) December 28, 2018
This is so tragic and I'm so sorry for your loss, her family's loss and anyone whose life was touched by Bre.

— Bridget Phetasy (@BridgetPhetasy) December 28, 2018
I am so, so very sorry for you, for all who knew her, & for the world. Bre was interesting, sassy, unafraid to swim against the stream & I am stunned. I will miss her. I know well how little my words change anything, but I pray for comfort & strength & peace.

— Mary Katharine Ham (@mkhammer) December 28, 2018
A great loss. Bre Payton was a wonderful person and a terrific young journalistic. RIP. https://t.co/0f9Ym8zsIO

— Ilya Shapiro (@ishapiro) December 28, 2018
Bre was thoughtful, kind, and so smart. The world will be a lesser place without her. Rest In Peace, Bre. May her memory be a blessing. https://t.co/wXFWoubOLC

— Erielle Davidson (@politicalelle) December 28, 2018
Awful, I'm so sorry to hear. Bre was so sweet and kind https://t.co/QDb9I61SaD

— Shoshana Weissmann, Regulatory Reform Muse (@senatorshoshana) December 28, 2018
Horrible…..absolutely horrible. May she now live in peace with Christ. https://t.co/Yd90JCN8eU

— Curtis Houck (@CurtisHouck) December 28, 2018
This is devastating. My heart goes out to her family and the folks at @FDRLST. Truly heartbroken. https://t.co/LmqD60qUSn

— Joseph A. Wulfsohn (@JosephWulfsohn) December 28, 2018
Bre Payton was smart, kind, & genuinely well-liked by everyone who knew her. this is so heart-wrenching to hear. Sincerest condolences to her family & friends https://t.co/EdcoJgHbNO

— Elizabeth Nolan Brown (@ENBrown) December 28, 2018
Dear God.

My deepest sympathies to Bre's family, @RgColby1023, and all her friends and co-workers.

This is so unimaginably awful. https://t.co/7K48cO8GXr

— Drew McCoy (@_Drew_McCoy_) December 28, 2018
OMG.

Bre was a beautiful friend. I can't believe this happened. https://t.co/q8XHJ0ISRM

— Ashe Schow (@AsheSchow) December 28, 2018
This is devastating news. Bre was a wonderful person — she always asked about my family first thing whenever I saw her. She will be missed dearly by those who knew her as well as those only familiar with her professional work. May she rest in peace. https://t.co/m8QBJTIf8d

— Philip Klein (@philipaklein) December 28, 2018
I am completely devastated. Bre was kind, spunky, and fun. My prayers are with her family during this hard time. https://t.co/4VZ0lgBlzU

— Kristin Tate (@KristinBTate) December 28, 2018
Oh dear God no. Such a lovely young woman and I was blessed to know her. https://t.co/PnCko2HNT5

— Mark Hemingway (@Heminator) December 28, 2018
May Bre's memory forever be a blessing. What an awful, unfathomable tragedy. https://t.co/5V85q6Cxp5

— Elliott Hamilton (@ElliottRHams) December 28, 2018
My God. How awful. https://t.co/KIylxOMAew

— Sonny Bunch (@SonnyBunch) December 28, 2018
I'm so sorry to hear this. Thinking of her family and family of friends at @FDRLST today. ? https://t.co/TUTw6w9ELB

— S.E. Cupp (@secupp) December 28, 2018
So incredibly sorry for Morgan, @PhilipWegmann, her @FDRLST colleagues, and all Bre's many friends. Only met Bre a few times but she had a great sense of humor. https://t.co/gwqMVlpftY

— Tom Rogan (@TomRtweets) December 28, 2018
Please pray for Bre's family. https://t.co/lmr4hwRI7B

— Stephen Gutowski (@StephenGutowski) December 28, 2018
RIP.

Be thankful for every single day you have. https://t.co/mZlZW5ipzH

— Chris Cillizza (@CillizzaCNN) December 28, 2018
My God. Praying for her, her family, her friends, and everyone who loved her. What an unbelievably tragic loss. https://t.co/DP2A322COc

— Jerry Dunleavy (@JerryDunleavy) December 28, 2018
Really sad to hear this news. @Bre_payton was simply a kind soul who never let the Washington change her. We used to sit and talk politics in the green room at @OANN. Rest easy. https://t.co/jaNkwWTfIV

— Trey Yingst (@TreyYingst) December 28, 2018
Such a tragic loss. @Bre_payton was a wonderful person. https://t.co/jDao9EoY54

— Sarah Westwood (@sarahcwestwood) December 28, 2018
Lord have mercy https://t.co/jlfMQfdwat

— Bethany S. Mandel (@bethanyshondark) December 28, 2018
Incredibly heartbreaking news. Prayers with the with her family and friends during this very difficult time. https://t.co/qRPL0ku0xn

— Sean Langille (@SeanLangille) December 28, 2018
terrible news. https://t.co/AgVoAb0z8d

— GregGutfeld (@greggutfeld) December 28, 2018
Have a tip we should know? tips@mediaite.com