Men's Health published an article about women and sports yesterday so offensive that it has already been completely scrubbed from the internet. Boston.com's Hilary Sargent grabbed a screencap of this gem: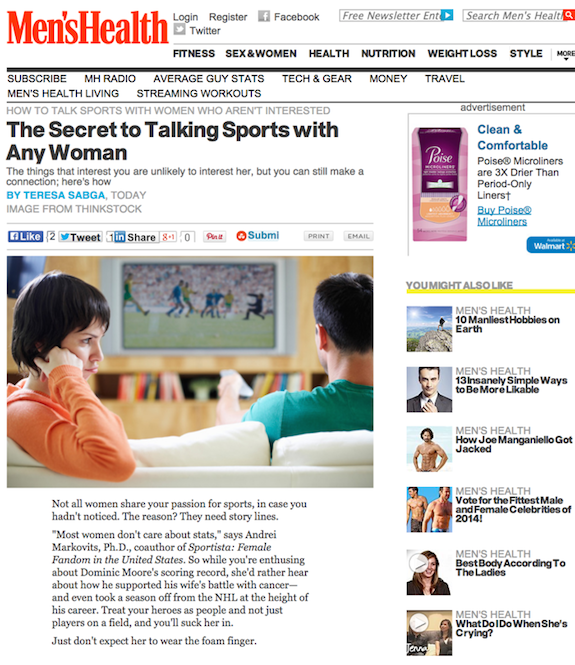 Foam finger LULZ. Guess what kind of reaction this generated?
Is Men's Health mansplaining how to mansplain?! #MANSPLAINCEPTION https://t.co/pijGcXkkFo

— Sarah Kliff (@sarahkliff) October 7, 2014
1. Every time you think women have made some advancements in society, something like that Men's Health article happens. (not linking)

— Ken Tremendous (@KenTremendous) October 7, 2014
I mean, I get that Men's Health didn't care that it's sexist. I'm just sad/amused about the dudes about to make idiots of themselves.

— Linda Holmes (@nprmonkeysee) October 7, 2014
I normally don't believe that trolling for hate clicks is a thing, but there's no other way to explain that Men's Health thing.

— Matt Yglesias (@mattyglesias) October 7, 2014
The magazine quickly backtracked, deleting both the article and the tweet advertising it and apologizing on Twitter:
Apologies for our "talk sports with her" story. It missed the mark and the negative feedback is justified. We've deleted it. [part 1]

— Men's Health Mag (@MensHealthMag) October 7, 2014
It wasn't meant to suggest that women are in any way inferior to men, in sports, or anything else. But … we're sorry that it did. [part 2]

— Men's Health Mag (@MensHealthMag) October 7, 2014
How that was not meant as condescending to women is a secret held safe among the Men's Health editorial staff. Rumors that women like sports and are perfectly capable of appreciating and enjoying them on any and all levels available to men went unconfirmed at press time.
UPDATE – 11:07 a.m.: The editor of Men's Health apologized on the Today Show, below:
Visit NBCNews.com for breaking news, world news, and news about the economy
[Image via Boston.com]
——
>> Follow Evan McMurry (@evanmcmurry) on Twitter
Have a tip we should know? tips@mediaite.com