Television Legend Charlie Rose Rocks $800 Versace Pants in Honor of Cam Newton
This week, Carolina Panthers quarterback Cam Newton wore an incredibly expensive pair of eye-sore impressive pants from Donatella Versace when he landed in San Francisco for Super Bowl 50. Newton, never one to be shy from the spotlight, owned the moment, and the internet quickly went nuts:
wsoctv: The wild pants #CamNewton wore to head to Cali have already sold out! Newton explains his style next on #D… pic.twitter.com/k2DfVmnbhB

— Explore The Mill (@ExploreTheMill) February 2, 2016
In time, it was revealed that the pants retail for over $800, and it spurred an interesting bet on CBS This Morning Monday: if the show could get a pair, would legendary TV anchor Charlie Rose — who has interviewed sitting Presidents, world leaders, and has a Peabody Award to his name — wear a pair of the pure-swag pants live on air?
Today, we luckily got that answer:
The 74-year-old Rose owned the moment like he was Cam Newton, strutting onto the set of CBS This Morning. "Cam, I'm with you man!" Rose joked. Here's a closer look at the must-see-to-believe pair of threads: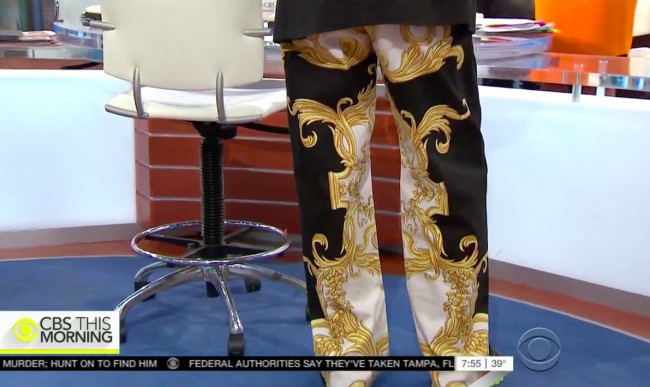 When cohost Gayle King pressed Rose to reveal how he got them, Rose simply noted, "My friends at Versace." Who knew that Charlie Rose and Cam Newton rolled in the same circles like that? No word yet on whether the TV veteran has the same end zone dance moves of the Panthers quarterback, who is competing in his first Super Bowl on Sunday on CBS.
Watch the above video from CBS.
—
J.D. Durkin is the Senior Editor of Mediaite. You can follow him on Twitter @MediaiteJD.
Have a tip we should know? tips@mediaite.com