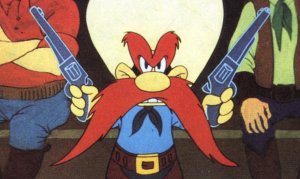 One of the worst jobs here at Mediaite is the constant combing of comments for personal attacks, trolling, and unsavory missives. It's a waste of time that can be alternately disheartening and disgusting. In the past, we had taken a somewhat soft, gardening-centric approach to the comments. As of today, we're getting a little tougher.
If you're reading this site, we're going to assume you're smart enough to know what types of comments cross the line. Personal attacks towards our Editors/Writers, other commenters and racist or otherwise discriminatory rants against media and political figures are childish and unseemly. And they're no longer being tolerated. Want to prove your argument is the best? Don't suggest that a commenter has any parts of Newt Gingrich's anatomy in his mouth. Feel like being taken seriously? Don't make up words that end in "-tards." Not only do they lower the level of quality discussion in the comment section, they also turn off would-be commenters and readers from adding their own thoughts and insights.
We're not trying to be the fun police. We don't want to tell you to what to write, and won't. And we're definitely not trying to bring a heavy dose of PC into the mix. You can still be incendiary and partisan and obnoxious — we're just asking you do it with some respect. Maybe this will inspire a little creativity, perhaps it will raise the level of discussion; our aim is simply to make it less of a turnoff for readers and new commenters. And, frankly, to get rid of the antagonizers who only exist to rile up other users.
This isn't going to be a list of things you can and cannot say here. How about one simple guideline? Don't be a jerk. If you've had a comment of yours deleted, consider that a warning, and assume that the next time you get close to that line, you'll probably be banned.
And if you have a beef with our decision, or see a comment you feel should be deleted, please feel free to send it to our tips address.
We really do appreciate your comments. It's one of the things we love most about the site. We just want to make the section better for everyone.
–Mediaite Staff
Editor's note: This post has been republished as a reminder/update to people who would like to comment on our posts – Jon Nicosia
Have a tip we should know? tips@mediaite.com