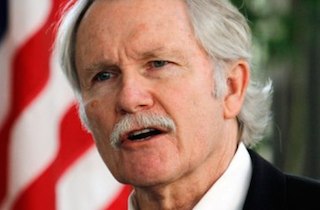 A new Survey USA/KATU poll showing a massive swing toward the GOP candidate in the Oregon governor's race got political Twitter's blood going this morning.
Oregon Governor John Kitzhaber (D) held a thirteen point lead last anybody checked, but has also suffered weeks of negative press following the revelation that his fiancée Cylvia Hayes had a previously undisclosed marriage to an Ethiopian immigrant to help him obtain a green card.
The Survey USA poll, taken early this week, showed 18% of respondents changing their vote to Kitzhaber's opponent Dennis Richardson, a shift so sizable even Richardson was taken aback by it. "It was just amazing to see that kind of a flip," he told a local news station.
Amazing as in not credible. The 18-point flip came from a subsection of "voters paying close attention to the governor's election and who are following news stories about Hayes." From the initial poll of 905 respondents, only 407 fit both those criteria. 18% of that subsection said they switched their preference, accounting for only 8% of the total — still giving Kitzhaber a five-point advantage.
And that would be in an outlier poll. Mediaite spoke to Steve Singiser, a contributing editor at Daily Kos Elections, who called the survey an "in-kind contribution from the media outlet in question (KATU-TV) to the Richardson campaign. It limits the poll only to people who care about the 'scandal' most, and then gives the predictable result."
Singiser pointed out the most recent poll showing Kitzhaber up by thirteen was taken after the revelation of the Hayes' marriage, and was identical to the twelve point lead Kitzhaber enjoyed before the story broke.
"In other words," Singiser said, "with one quick look at Google trends, both KATU and SurveyUSA would know the answer to the question they are polling: is the Kitzhaber-Hayes story moving voters? Answer: it wasn't."
He added: "What is really galling is that a lot of top national political commentators, who really ought to know better, got taken in by a great hook and a very misleading local media story."
[Image via Oregon.com]
——
>> Follow Evan McMurry (@evanmcmurry) on Twitter
Have a tip we should know? tips@mediaite.com