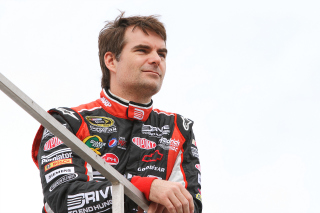 Another day, another ambiguously-labeled "satire" website fooling people into believing completely untrue stories.
We've documented at least half-a-dozen instances of The Onion wannabes at The Daily Currant fooling half the web into thinking Bill O'Reilly assaulted a mall Santa or that Sarah Palin will lecture at Harvard.

And now, a satirical sports site emerges with a 100% fake story claiming NASCAR legend Jeff Gordon is in a gay relationship with fellow driver Stephen Rhodes.
The article, entitled "Jeff Gordon And Stephen Rhodes Confirm Homosexual Relationship; NASCAR Fans Outraged," began with an explanation that "Gordon joins a list of male athletes who are new to the openly gay sports world," supposedly admitting to a relationship with Rhodes, the first openly gay driver to compete in NASCAR's national touring series when he debuted back in 2003.
"We are unable to get a comment from Gordon or Rhodes on this news of their relationship but it is 100% confirmed by them both," the article added. "Both men have been seen around together since they came out just recently. The couple has been seen hand in hand but not much else in the public eye."
And then a tell-tale sign it's fake: "This new couple has sparked a fire storm in the southern states where the rednecks tend to live." The writer then quotes a certain "Billy-Bob" (come on, this is just lazy) who gives a stereotypically hateful quote about "the queers" and "fashion designers."
Another tell-tale sign? If you click on the site's "Disclaimer" page, it says: "Empire Sports is a satirical and entertainment website."
Nevertheless, the story went viral, getting an inordinate amount of shares on Facebook and Twitter. While some readers were clearly keen on the satire; others earnestly applauded the news or mocked the drivers or NASCAR fans.
So let's just say it all together: Jeff Gordon is not in a relationship with Stephen Rhodes; nor is he divorcing his wife Ingrid Vandebosch.
Glad that's all cleared up.
[Image via Shutterstock]
— —
>> Follow Andrew Kirell (@AndrewKirell) on Twitter
Have a tip we should know? [email protected]