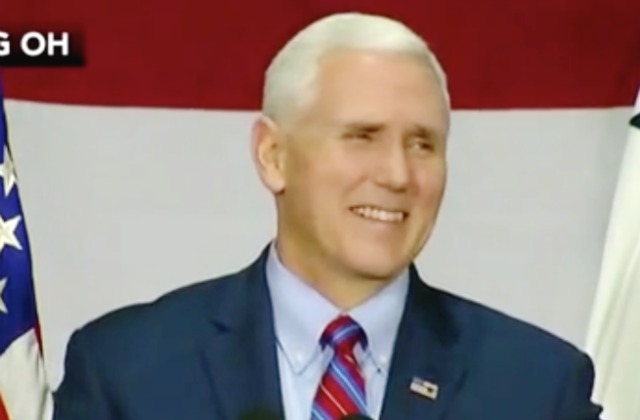 On Monday, Notre Dame's student newspaper, The Observer, spotlighted a protest campaign by left-wing undergraduates decrying the supposedly "racist, sexist, homophobic, [and] xenophobic" Vice President of the United States, Mike Pence, who is set to be the commencement speaker this year at the university.
The newspaper noted that the #NotMyCommencementSpeaker initiative was started by seniors Imanne Mondane and Jourdyhn Williams, who claim that Notre Dame's "selection of Mike Pence … represents an endorsement of the values supported by President Donald Trump, which they said silences certain minority groups."
Mondane played up that "for many people on our campus, it makes them feel unsafe to have someone who openly is offensive but also demeaning of their humanity and of their life and of their identity."
Williams emphasized that "during his time as governor of Indiana and also during his campaign trail, along with Trump, he has made offensive statements towards minority groups…like women and African-Americans."
The two students encouraged their peers to take pictures of themselves holding whiteboards with supposedly bigoted quotes from Vice President Pence written on them.
The former Indiana governor certainly isn't the first controversial choice for Notre Dame's commencement. During the lead-up to the 2016 event, dozens of undergraduates signed a letter objecting to Pence's predecessor, Joe Biden, for his public stances "directly contrary to Church teaching" on abortion and marriage. Biden not only spoke at the commencement, but also received the university's Laetare Medal. Earlier, in 2009, many objected to President Barack Obama's address at the annual event for the same reasons.
However, what makes the current whiteboard campaign stick out is the organizer's wild claim that there's a "dominant narrative" at Notre Dame — that the administration doesn't "think and act in regards to the other people on our campus who are not white, conservative Catholics."
Notre Dame is dominated by "white, conservative Catholics"? There is evidence that the opposite is actually true, outside of the hosting of Obama and Biden at two commencements.
The university's campus police shut down conservative activists who were promoting traditional marriage in 2014. Later that year, the university announced that it was offering a seminar on "white privilege," and would be sending those enrolled to a "white privilege" conference.
More recently, in January 2017, Notre Dame's faculty senate passed a resolution calling on the institution to be a "sanctuary campus."
Finally, the university's president had originally considered inviting Trump to speak, in honor of a tradition of inviting a newly-elected president to the commencement during the first year of the presidency (as in the case of Obama). However, hundreds of students signed a petition voicing their objection to such an invite. The administration settled on inviting Pence
If the students prevail in their protest against the Vice President, they will claim another victory for the forces that aim to suppress all non-leftist speech on college campuses.
[image via screengrab]
This is an opinion piece. The views expressed in this article are those of just the author.