Occupy Melbourne 'Tent Monster' Stripped Down To Her Underwear In Park By Police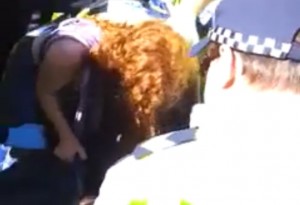 Occupy Melbourne popped up on the national radar this week with their "Tent Monsters" — a group of protesters who re-worked tents as clothing in a Transformers-y kind of way: As police approached what looked like tents to remove them from the grounds, heads and arms popped out and about four protesters began running around the police, gleefully mocking them. They eventually followed the police out of the park and onto the sidewalk, openly antagonizing them as they went along.
On Tuesday in Australia, the protesters were told that they would no longer be able to wear the tents as clothing. According to Wayne Flower of The Herald Sun, they were even given time to prepare for the tent removal:
Police said they advised protesters that if they chose not to wear clothes under the tents, they would be given reasonable time to dress before the structures were seized.

'Three of the four protesters co-operated and evacuated their tents. The fourth, a female, refused to comply with direction,' police said.
RELATED: Occupy Protester Passes Obama A Note Criticizing His 'Silence' Over 'Police Brutality'
That woman, identified so far only as "Sarah," was then stripped of her tent by police — one policewoman had a knife, according to Flower — and left in the park in her underwear as police walked away with her tent.
One of her fellow protesters captured video of the incident. Sarah says several times as the police are dismantling her tent that she considers what the police are doing as a sexual assault and that it's not consensual (Flower notes that an investigation is now open). She notes that she is naked underneath. As the dismantling is going on, the man videotaping screams "Shame!" over and over at the police.
So, the question arises: Is this an annoying protester who was given plenty of warning to take the tent off simply overreacting? Or an antagonized police force unnecessarily stripping a woman to her underwear in a park? Video of the incident (with lots of screaming, salty language, and woman in her underwear, so proceed with caution) can be found below, via Diane Sweet of Crooks and Liars:
Have a tip we should know? tips@mediaite.com