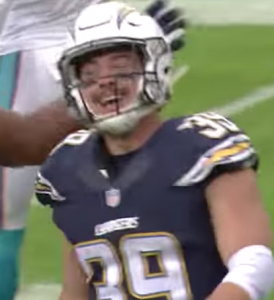 A grifter who tricked four NFL players into investing in racehorses, and then kept the money for himself, pleaded guilty to two counts of wire fraud and one count of money laundering in Federal Court on Thursday.
Jonathan Pippin, a 29-year-old man from Logan, OH, copped to the charges and received a sentence of 21 to 27 months of prison.
According to Cleveland.com, the conman formed a company called PJH Racing, which he used to bilk money out of unsuspecting investors — including the four athletes — who thought they were purchasing a stake in racehorses. Pippin then used the money for gambling, visits to strip clubs, and the purchase of a Cadillac Escalade.
The four NFL players defrauded by Pippin were; Danny Woodhead of the San Diego Chargers (pictured above), Chansi Stuckey and Reggie Hodges of the Cleveland Browns, and Jordan Norwood of the Denver Broncos.
The Paulick Report, a horse racing-focused media outlet, published a detailed account of Pippin's remarkable exploits back in 2014. The report chronicled how Pippin created a elaborate trail of deception to convince people like the four NFL players that he had a working relationship with prominent Throughbred industry figure Bob Baffert — best known as the trainer of Triple Crown winner American Pharoah.
It's hard to tell fact from fiction when it comes to the (then) 27-year-old Pippin, a 21st Century flim-flam man who uses false or embellished stories about him on the Internet to enhance his reputation, telling people to "Google horse racing and Jonathan Pippin." (He has also been known to go by the name of Jon Hughes, JO Michael, Jon Michael, Jonathan Pittman or Jon Pittman.)

One article, published prior to the 2010 Kentucky Derby on the gambling911.com website, said Pippin was co-owner with Mike Pegram, Karl Watson, and Paul Weitman of Baffert-trained two-time champion Lookin At Lucky. Pippin had zero ownership interest in Lookin At Lucky, but that piece of misinformation was published on a number of other websites, including an examiner.com Kentucky Derby preview.

Pippin used those articles to convince people he was a horseracing bigshot who rubbed elbows with Baffert, a man he had yet to meet.
Check out the rest of the wild story here.
[image via screengrab]
–
Follow Joe DePaolo (@joe_depaolo) on Twitter
Have a tip we should know? tips@mediaite.com
Joe DePaolo - Senior Editor