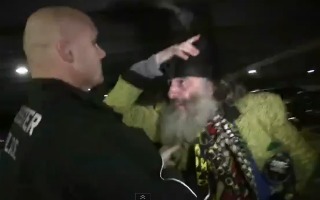 Future U.S. President Vermin Supreme unwittingly became part of a scuffle involving Rick Santorum supporters, Santorum's handlers, local police, and Occupy protesters outside a Manchester, New Hampshire sports bar. Vermin's media director was allegedly injured in the melee after being shoved to the ground.
Here's the description of the video, via YouTube:
As Rick Santorum exited a drinking establishment in Manchester Monday Jan 9th his security thugs, protected by a line of police, attacked Vermin Supreme, an unidentified female staffer and his media director. FluxRostrum, the media director hit his tail bone harshly on the concrete. Lawyers are being consulted.
In the video, Vermin Supreme can be seen being pushed back into what appears to be a parking lot by a man wearing a "Manchester Police" jacket. Vermin can be heard saying, "I didn't do anything. I was being pushed."
RELATED: Locally Sourced: Meet Democratic Presidential Candidate Vermin Supreme
The crowd erupts into chants of "Shame! Shame!" as Santorum and his crew continue to walk away. Many are carrying Occupy signs (Vermin Supreme has been an active Occupier), some are holding cameras and snapping pictures. The crowd, using a human mic, then yells "We don't want you bigot in our town. New Hampshire is a friendly place. Bigots go home!"
Vermin Supreme then appears on camera once again, recounting what happened:
At first, I believe, it was his goons who were shoving me out as I was trying to get in to shake Mr. Santorum's hand and wish him well. And then it was the police. I'm not sure where it changed from the civilian Santorum supporters to the police. But then I was shoved and backed off, you know way over there, by the cop who said, "You are safe here."
"I'm tough and rough like that, it's ok," he joked after being asked how he felt about being attacked by Santorum supporters.
Watch for yourselves:
Have a tip we should know? tips@mediaite.com