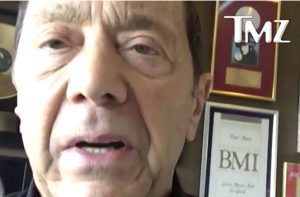 Looks like Donald Trump may still be in the market for some inauguration performers. Last night, it was reported that Paul Anka would be performing "My Way," with lyrics customized for the incoming President, but he told TMZ that that's actually not the case.
He said, "The President-Elect is an old friend of mine for 50 years, there was a dialogue to do it, 'My Way' is his favorite song, but… I've been in a custody battle for two years for my son Ethan, and we have a new schedule now and I'm unable to do it."
He added, "I have a respect for the office of the Presidency and an American, and Im doing this…I was doing it in terms of what's good for our country and respecting the Presidency."
When asked if his views match Donald Trump's, he said "You have a better chance getting sunrise past a rooster on that one."
Watch the video above, via TMZ.
[image via screen grab]
Have a tip we should know? [email protected]