Peter Fonda's Rep Invokes the Pope to Explain Tweet About Caging Baron Trump With Pedophiles (UPDATED)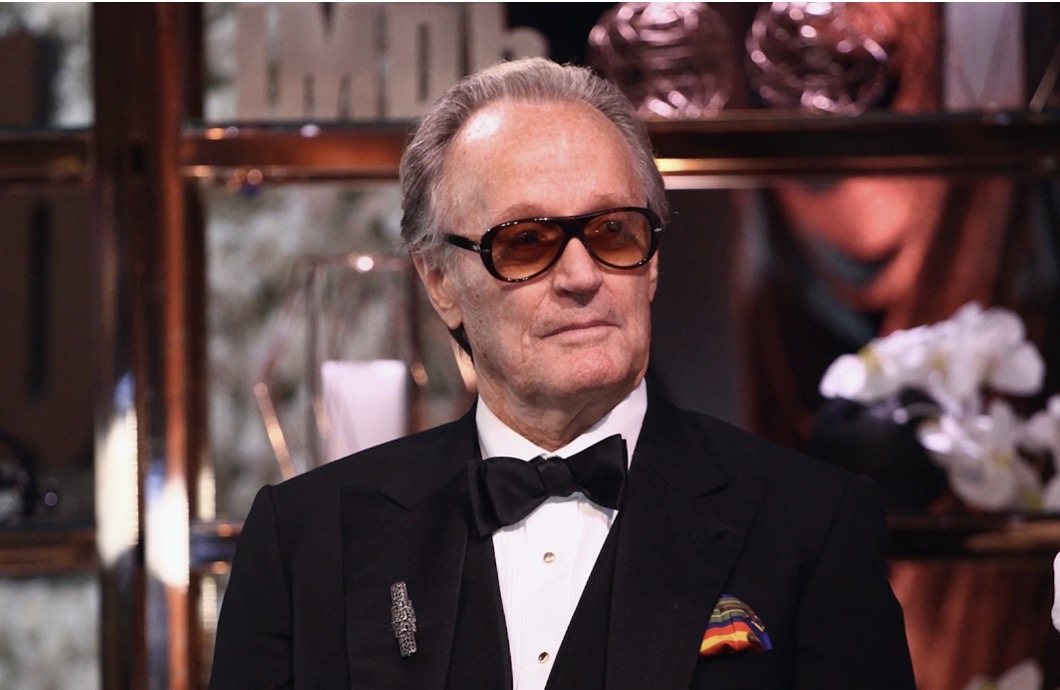 On Wednesday, actor Peter Fonda fired off a number of tweets ripping President Donald Trump's child separation policy and claiming, in all-caps, that "WE SHOULD RIP BARRON TRUMP FROM HIS MOTHER'S ARMS AND PUT HIM IN A CAGE WITH PEDOPHILES AND SEE IF MOTHER WILL WILL STAND UP AGAINST THE GIANT ASSHOLE SHE IS MARRIED TO."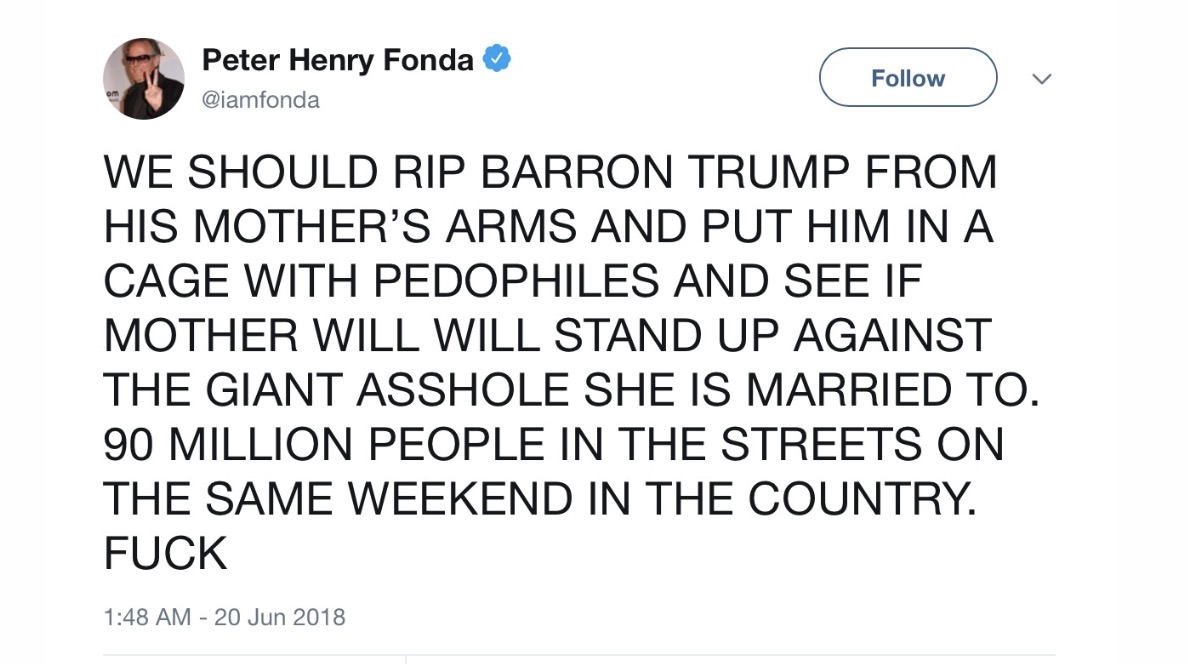 The tweet on Barron Trump prompted First Lady Melania Trump to contact the Secret Service about the threat which her spox called, "sick and irresponsible."
Yet, it seems the actor's representative is attempting to explain away the tweet by comparing the remarks of Fonda to Pope Francis condemning the child separation policy.
"Peter wanted to make sure that Melania and Ivanka communicate with the president the dire circumstances of separating mothers and young children. My response is the move was evil same as the Pope," the actor's rep said in a statement sent out Wednesday afternoon.
The actor's original tweet has since been deleted along with other tweets (seen below) railing against the policy and calling for people to "get the addresses of ICE agents" and writing, "Wanna stop this fucking monster?"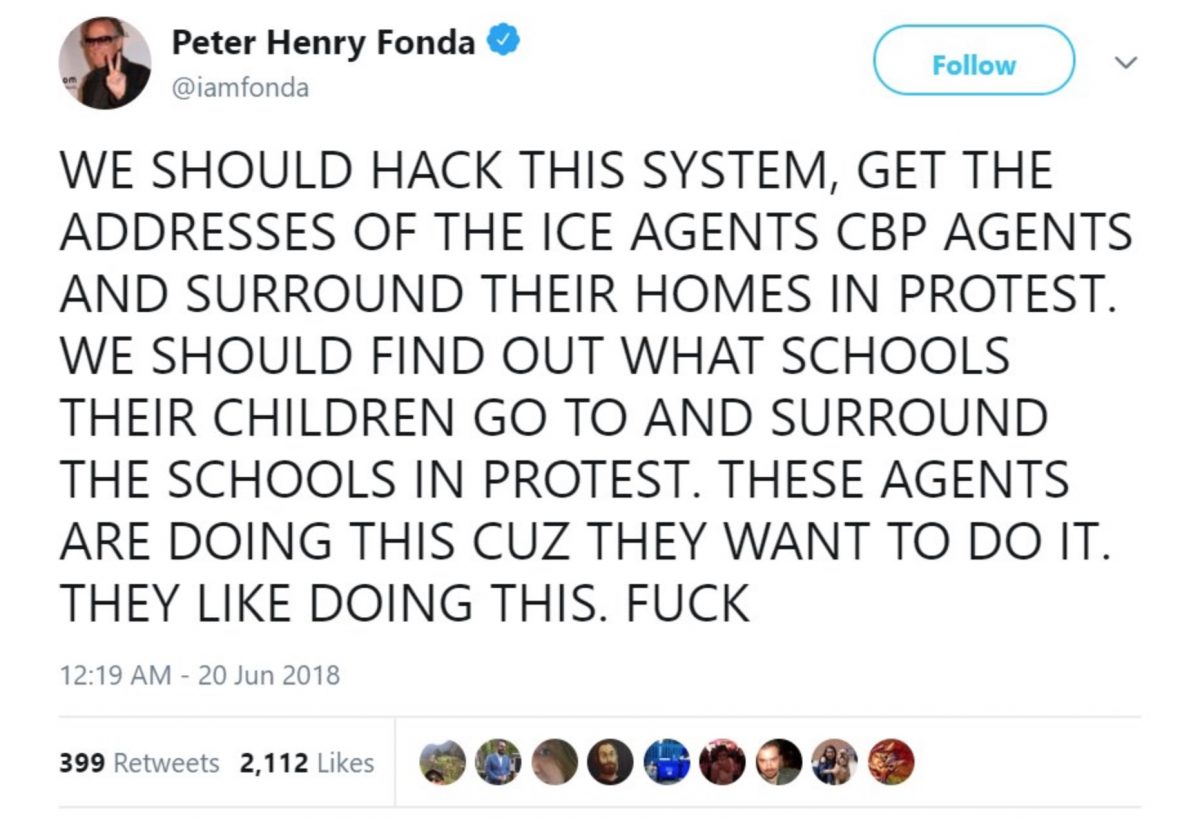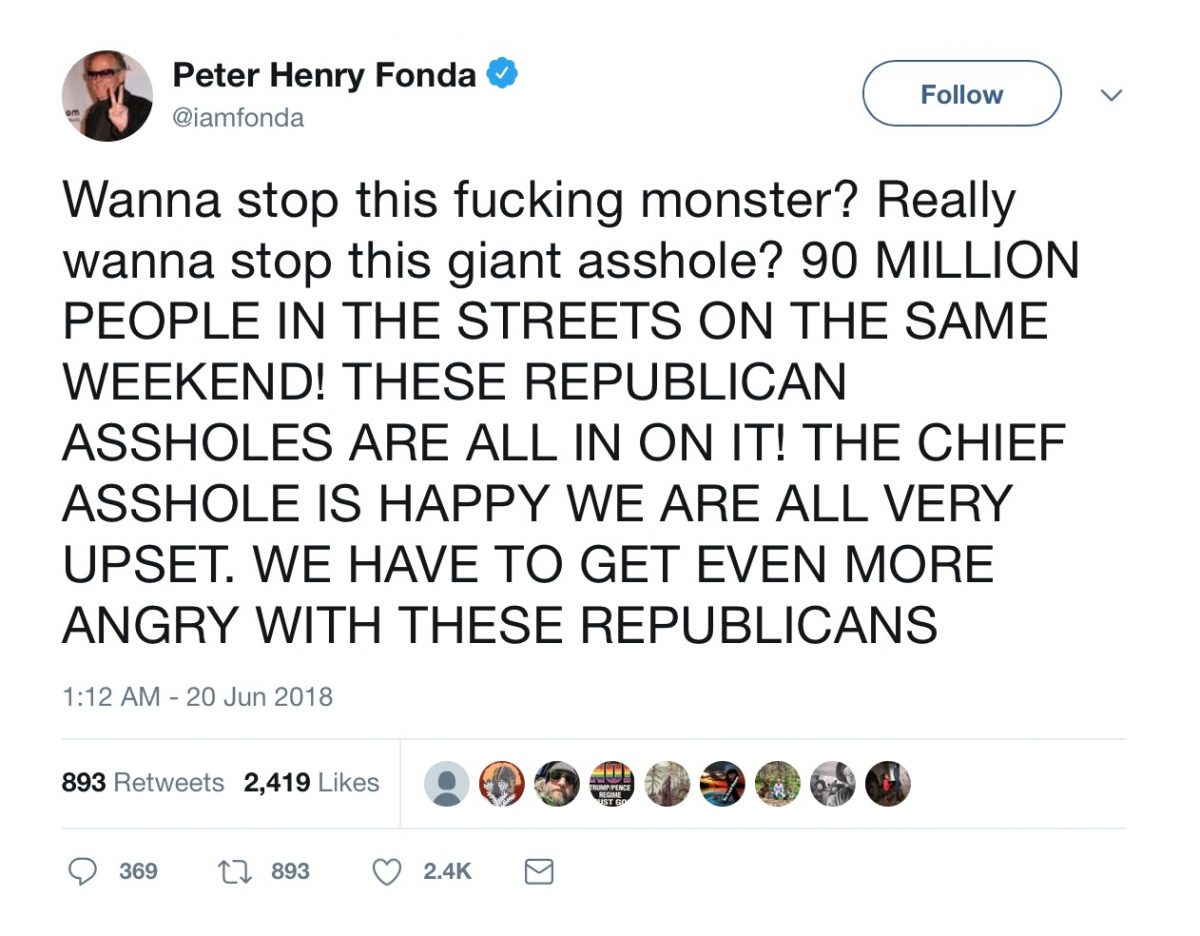 UPDATE 4:27 p.m. EST: CNN reports that Fonda is apologizing for his tweets.
"Like many Americans, I am very impassioned and distraught" he wrote, per CNN's Brian Stelter, "but I went way too far."
"It was wrong and I should not have done it," he added.
Actor @iamfonda is apologizing to the Trump family for his vulgar tweets. "Like many Americans, I am very impassioned and distraught" over the border crisis, "but I went way too far," he says. "It was wrong and I should not have done it." Says he's sorry. (via @TheSandraG)

— Brian Stelter (@brianstelter) June 20, 2018
[image via Getty Images]
Have a tip we should know? tips@mediaite.com